Part performance, part competition, part learning experience and a whole lot of musical entertainment, this Saturday, Salem residents and visitors will be treated to the first annual Haunted Harmonies A Cappella Festival.
Haunted Harmonies is a NEW one-day a cappella festival in Salem, MA built to educate high school and collegiate students on various elements of contemporary a cappella (group or solo singing without instrumental accompaniment) and enhance Salem's Haunted Happenings celebration.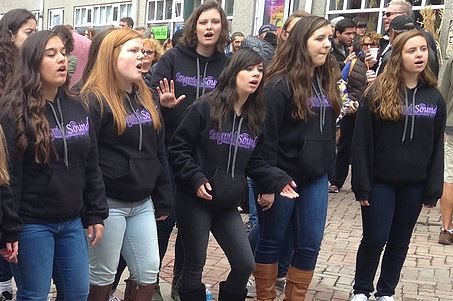 Through workshops and exposure to professional musicians, students will gain skills to improve their musicality and knowledge of a cappella. Students will also provide family-friendly entertainment to the community while experiencing high-level performance opportunities in competition and exhibition on the streets of Salem during the Haunted Harmonies festival and throughout the month of October.
Inspired by the growing enthusiasm for a cappella performance, Haunted Harmonies was created by Alex Grover, Music Director of Danvers High School & former director of Salem High School's a cappella group WitchPitch?, and Tina Jordan, Director of the Salem Witch Museum.
Jordan explains, "The audience is in for a wonderful musical experience.  Whether watching the competition at the Fountain Stage, hearing the Scholastic and Non-Scholastic groups perform at the four other stages on Essex Street, or attending the Professional Showcase in the acoustically amazing Murray Hall at the Bridge at 211 featuring Vox One, the award-winning a cappella jazz quintet that combines elements of blues, funk, gospel, and folk into their own brand of vocal music, the audience will have an opportunity to participate in something special."
The Scholastic Competition will include:
S#arp Attitude from UMass Amherst,
Fermata Nowhere from UMass Lowell,
Unisons from Northeastern University,
Tonal Recall from Colleges of the Fenway,
4Gotten Suitcase from Ramapo College,
Upper Structure from Berklee College of Music,
the ArgoNotes from Maspeth High School, and
Acapocalypse from Emmanuel College in Boston,
Saugus Sachimes from Saugus High School, and
Ingrid Sound from Danvers High School. 
The competition will be opened and hosted by Phoenix, a Boston-based, all female a cappella group.
Jordan continues, "What I love about the design of the festival is that the groups will learn from experts in the a cappella world, Phoenix A Cappella and Berklee College of Music & Women's A Cappella Association, and will be able to take those lessons and apply them as they perform on the streets of Salem with a Haunted Happenings twist!
Because this festival happens so early in the school year, I think it will also help the individual a cappella groups become more connected, as some have incoming freshmen as new members of their groups and this experience will help them build their relationship with each other."
The Scholastic Competition will be held on the Fountain Stage on Essex Street from 10am – 12pm and is free to the public. Each of the ten groups will perform and be adjudicated by a panel of professional a cappella performers and professors from Berklee College of Music and the Women's A Cappella Association.
In the afternoon there will be street singing by non-scholastic performance groups from 1-4pm.  A cappella fans can see their favorite scholastic performers again during their Street Singing showcase from 4-5:30pm.  There will be five performance locations on Essex Street between Liberty Street and Washington Street.
The Pro Showcase featuring Vox One and the winners of the scholastic competition will be held in Murray Hall at 211 Bridge at 7pm. Advance ticket purchase is strongly recommended; tickets are $8.00 in advance, $10.00 at the door.
For complete information on Haunted Harmonies, visit HauntedHarmonies.com.
The a cappella festival is part of a month of musical programming on the Fountain Stage organized by Salem Gathering, and will coincide with this weekend's Haunted Biz Baz Street Fair, which is produced by the Salem Chamber of Commerce. For complete information on the month-long Salem Haunted Happenings festival, visit HauntedHappenings.org.
Jordan concludes, "I think this festival will be a wonderful experience for the high school and colleges that will participate, but the real winners will be the visitors and residents who come out to enjoy the music and talent of these wonderful scholastic and non-scholastic performers."