Last month and even just last weekend were packed with one exciting super charged event after another– but someone asked, what about something for the kids. And adults "young at heart."  The answer is at the Kensington-Stobart Gallery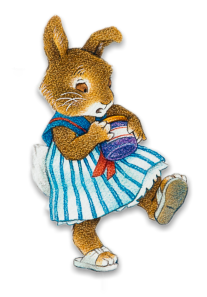 at the Hawthorne Hotel, On the Common, which  is featuring original works by Salem resident, Katy Bratun, now through May 13th. This is a departure from the gallery's forte of maritime art. Just like Salem, change things up.
"From Pencil to Print" showcases her children 's book art with whimsical woodland creatures having human qualities. Selecting  colored pencils, watercolors, acrylics, and pastels she strives to develop images that are engaging places for children to go. Her book illustrations reflect the warm colors and contrasting cool colors so familiar from her New Mexico childhood.
She explains on her website, "My desire to create pictures and outlandish characters began when I clutched a crayon in my chubby hand. After realizing that periwinkle is not as tasty as it looks, I began scratching the color on random surfaces. Voila! Much more satisfying!"
Katy Bratun studied illustration at the Art Institute of Boston and has illustrated 30 books for children. She has also been an instructor for drawing programs at the Peabody Essex Museum.
This event is free and open to the  public. For more information, call The Kensington-Stobart Gallery at  978-825-0022.