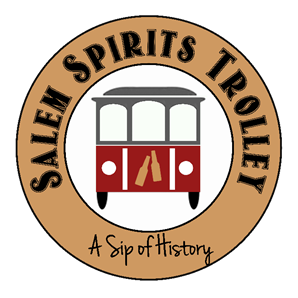 The booming craft maker scene in Salem is getting its own tour! Salem Spirits Trolley launches a new excursion focusing on locally made cider, spirits, and beer beginning Friday, Sept. 9th.
"We are thrilled to offer this fantastic new tour to both locals and visitors," says Salem Spirits Trolley founder and owner Karen Scalia.  "Salem's renowned and award-winning food scene now has a great companion with its outstanding craft beer, cider and spirits scene."
The tour will include stops at Far From the Tree Cider, Deacon Giles Distillery and Notch Brewing.
Hosted by emcee comedian Mark Scalia, the Salem Spirits Trolley offers an entertaining and unique look at Salem, from the waterfront to the historic McIntire District. The 3-hour tour includes a special spice tasting, which showcases what spices are used in the making and distillation or brewing process, followed by tastings at each tour location.
Transported by the Salem Trolley, guests have the opportunity to talk with the local crafters about their process and passion, and get a behind-the-scenes perspective on the distilling and brewing process, as well as its relevance to the story of Salem.
Like Scalia's Salem Food Tours, the experience is not just about the local samples, but about the connections between the spirits, the spice trade, and Salem's history.
Additional tour partners include Salem Spice and the Cheese Shop of Salem, sharing more of Salem's rich retail and culinary scene with participants.
The concept came to Scalia, who founded Salem Food Tours in 2010, after two of the local makers, Far From the Tree Cider and Deacon Giles Distillery, impressed her with their extraordinary products and special locations.
"Like our terrific Salem chefs, I wanted to shine a light on what they were doing," says Scalia, "Since the locations of the tasting room and distillery were not in close proximity, the concept of a trolley tour was born.  The addition of Notch Brewing to downtown Salem rounded out a fantastic experience."
The Salem Spirits Trolley will offer regularly scheduled public tours beginning Friday, Sept. 9th, and private tours are available for groups. All ticket-holders must be 21+ and must sign a waiver before embarking on the tour. For more information, visit salemspiritstrolley.com.