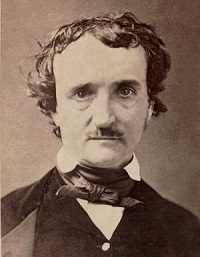 Why didn't someone think of this before? Transporting noted master of the macabre, Edgar Allan Poe and his chilling stories to Salem for an interactive event during Haunted Happenings. Makes perfect sense! Actually we did, or rather The Scarlet Letter Press & Gallery did last year and has opted for a return engagement Oct. 17.
Rebecca DeVries of Scarlet Letter Press reveals, "So many folks enjoyed the show that I was asked to repeat it this year. I actually booked the actor at the conclusion of last year's event because it was so well received."
The Scarlet Letter Press was participating in a national month of recognition to support the city of Boston's installation of its life-sized Poe bronze in Oct. 2014. The Edgar Allan Poe Foundation of Boston had sought to honor Poe in the city where he was born on January 19, 1809.
 The installation was in Poe Square (intersection of Boylston Street and Charles Street South) which had been dedicated to the author in 2009.
"This year we are hosting two smaller seatings (5:45pm and 7:45pm) at the event room in Wynott's Wands retail store on Essex Street in Salem," she explains.
Campbell Harmon returns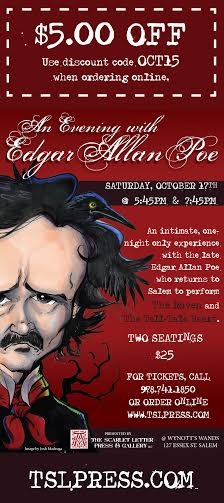 as Mr. Poe to perform dramatic readings of The Raven and  A Tell-Tale Heart. The latter of which was reported to have been based upon a true tale of horror from Salem's past– and little to do with witchcraft.
Last year's presentation garnered rave reviews.
Rebecca says "The audience was inspired by the actor's large wealth of Poe knowledge in addition to his theatrical story telling abilities. He spent a good portion of the after show last year discussing the mysterious circumstances of Poe's death and gave perhaps the best theory I have heard to date. The audience was thrilled to participate with their own theories!"
Also note that Scarlet Letter Press & Gallery is offering a $5 online coupon code which makes tickets only $20 each. Code is: OCT15.
For more info or tickets go to TSLPress.com or call 978-741-1850.