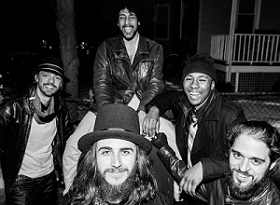 Jazz is in the air today and being that the weather is expected to be mostly sunny and pleasant, with temperatures in the low 80s, we invite you to feel the beat in person courtesy of the cool folks at The Salem Jazz and Soul Festival organization.
The SJSF is a nonprofit, volunteer-run organization that produces free concerts and raises money for music education causes on the North Shore; since 2007, it has raised $45,000 for such music-education causes.

First up, MusicKidz, 10am today at the Salem Public Library. An hour of musical learning and fun for kids in grades 1-5 (and parents too!). Today the program that SJSF will present is all about Native American music! There is no charge for admission
Then the Frotations, a band made up of students from the Berklee College of Music, will play the third SJSF/Berklee Summer Series concert of 2014 in Derby Square, 5-7 p.m. Creative Salem and Social Palates will sponsor the free performance.
Forged in 2011 by singer-songwriter Chris Kazarian and bass player Pedro Ribiero (Pedro Zappa), the Frotations were originally called K.A.Z. — A musical experiment centered around the up-and-coming singer songwriter aimed at bringing all of the world's people together under one sound. Today the Frotations are a concrete blend of Neo-Soul and Rock 'n' Roll with a little drop of Hip-Hop.
SJSF's season lasts May through August – putting on monthly, free concerts in partnership with Berklee College of Music – and culminating in a two-day festival at the Salem Willows in mid-August, featuring local, regional and national bands.
For more information, please visit salemjazzsoul.com or call 978-744-8258.
As a side note, we'd like to mention that the Salem Jazz and Soul Festival needs energetic and ambitious volunteers each year to help with the SJSF/Berklee Summer Series. Set up gear, hand out flyers, sell merchandise, and generally promote the festival They might still be able to use you today. If not today, there is always the Aug. 9th event. Interested? E-mail volunteers@salemjazzsoul.com for more information.