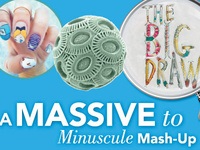 How often can you be drawn into an international good-will event by merely stepping into your downtown area? At least once a year if you live in Salem MA; this year, The Big Draw takes place Oct. 10 from 10am to 4pm at the Peabody Essex Museum (PEM).
What is The Big Draw?
The Big Draw, billed as the world's biggest drawing festival, is for anyone who loves to draw— as well as for those who think they can't. It began in 2000; this is PEM's third year producing the festival in Salem. In 2014, The Big Draw involved 26 countries, with 414,000 people attending more than 1,800 events by more than 1,000 organizers.
In other words, a lot of fun and creativity!
According to the international organizers at TheBigDraw.org, "Our key message has always been that everybody can draw given the opportunity, and that drawing can bring excitement and fresh thinking to any context. Our aim is to encourage people of all ages to explore ideas and express their creativity."
Almost as if taking a cue or challenge from that statement, PEM has gone one step further. The Peabody Essex Museum will be combining (the mash-up) this annual Big Draw Festival with— the opening of the museum's newest exhibition, Sizing It Up: Scale in Nature and Art, for a very lively day of art and investigation.
If you aren't aware of the new exhibition, Sizing It Up: Scale in Nature and Art features 35 works by contemporary artists, who are either investigating scale in nature, or manipulating scale as a deliberate device to prompt new ways of looking.
Through out the day you will enjoy interactive events designed to showcase the importance of magnitude, visual scale and perspective in unique ways that will inspire a new outlook on the world. Guests can doodle in 3-D, tinker with special tools to make drawings big and small and explore the unseen world of marine microbes. Artist demonstrations and screenings of the film Mysteries of the Unseen World are also among the activities planned.
SCHEDULE OF EVENTS
10 AM-4 PM | Collaborative Art Making | Mega Heart Meets Mini Heartbeats | Atrium
Explore a giant abstract heart created by sculptor Marilu Swett, a featured artist in Sizing It Up. Then add your own drawing of a heartbeat to the inside of the sculpture, where it will join drawings by people from around the world who have participated in Swett's "Heartbeats Project." The artist's global initiative to collect 1.5 billion drawings is her attempt to come to grips with the astounding number of times a mammal's heart beats over its lifetime, regardless of size.
10 AM-4 PM | Studio Discovery | Tiny Giants: Marine Microbes at a Grand Scale | Create Space
Discover why marine microbes are called tiny giants as you investigate live organisms and create your own scale-warping art. A scientist from Bigelow Laboratory for Ocean Sciences and artists from the ART + BIO Collaborative are on hand to share ideas, answer questions and help with your artistic creation.
10 AM-12:30 PM and 1-3:15 PM | Artist Demonstration | Nail Scale Art | Atrium
Pick a nail for master nail artist Nina Park to use as the canvas for one of her mini-scenes. Or just watch her in action. Animal face nail stickers are available for younger guests.
10 AM-2 PM | Outdoor Art Making | Temporary Canvas | Axelrod Walkway
Create a larger-than-life hummingbird with artist Emily Larsen. Experiment with CelloGraff, a new type of temporary street art that combines stretched cellophane and paint. Weather permitting.
10 AM-4 PM | Drop-in Making | Tinkering with Scale | Maker Lounge
Doodle in 3-D, make a pattern with a pantograph and tinker with tools and techniques for making drawings big and small!
11 AM-4 PM, runs hourly | Film| Mysteries of the Unseen World | Morse Auditorium
Discover events in nature that are not visible to the human eye. From microscopic creatures to actions that occur in only a millisecond, this film gives us a peek into the unseen. 39 minutes, 2013.
Whether you ever thought you had any artistic skill or not, the Peabody Essex Museum is offering you an opportunity to connect and feel connected with people across the world and across the room through the expression of art. Take advantage of this free event. PEM is located at 161 Essex Street, Salem MA.