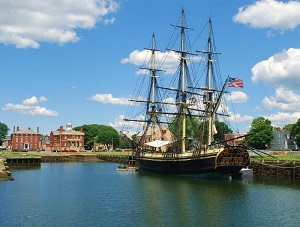 Discover the treasure that is a National Park this week as visitors to Salem Maritime National Historic Site are being treated to free ranger-led tours, a Junior Ranger Program, the free award-winning film "Where Past is Present" and a comprehensive audio-walking tour of the 9-acre site. It's all part of a USA-wide celebration (April 18-26) to encourage everyone to find their park and share their stories online at FindYourPark.com.
Salem Maritime National Historic Site offers 12 historic buildings, wharves, and a reconstructed tall ship which tell the stories of the sailors, Revolutionary War privateers, and merchants who brought the riches of the world to America. But it is more, as the video below explains, the Find Your Park program invites the public to see that a national park can be more than a place — it can be a feeling, a state of mind, or a sense of American pride.
Did you know that Salem Maritime was the first National Historic Site established in the United States (March 17, 1938)?
Beyond vast landscapes, this Find Your Park campaign highlights historical, urban, and cultural parks, as well as the National Park Service programs that protect, preserve and share nature, culture, and history in communities nationwide.
In fact, the National Parks initiative works with local agencies to build trails and playgrounds, return historic buildings to productive use, revitalize neighborhoods, expand affordable housing, protect watersheds, recognize and promote local history, and introduce the next generation to stewardship opportunities.
A National Park is more than grass, trees, and some old buildings.
Visit www.NationalParkWeek.org to learn more about how you can join parks, programs, and partners in celebrating National Park Week across the country.
And then visit our own National Park, Salem Maritime National Historic Site, located at/and around 160 Derby Street. For more info, go to http://www.nps.gov/sama/index.htm or call 978-740-1650.