Alienation, and the desire to transcend it, are the driving forces behind "Intersections" the Peabody Essex Museum's next Present Tense Initiative installation which showcases Pakistani-American artist Anila Quayyum Agha. It opens February 6th.
In the past, growing up under the strict conventions of gender that inform Pakistani society, Agha felt excluded and cloistered at home, while her male peers enjoyed warmth and companionship inside Pakistan's exclusively male mosques. Fast forward to current day, now living in America, Agha experiences new freedoms and, yet, a different kind of exclusion — that of being a Muslim.
"Intersections," an immersive single room installation conjures a site where a thousand years ago Islamic and Christian traditions thrived in coexistence.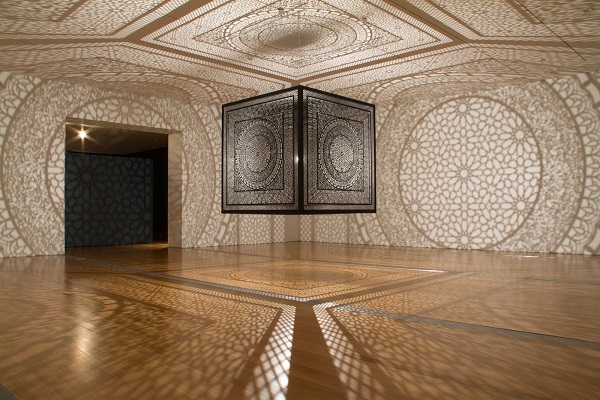 A five-foot laser-cut steel cube at the center of the gallery casts patterned shadows that echo the filigree found at the Alhambra Palace in Granada, Spain, a historic structure that was cooperatively built in the 14th century by Muslim, Jewish and Christian artisans and represents the coexistence of the Western and Islamic worlds.
A single light bulb centered in the cube creates the interplay of light and shadow across all of the gallery's surfaces, as well as the viewer. It has been said that Agha presents an immersive meditation on the nature of boundaries, categorization and alienation, while evoking the power of that which is mutual and common to us all.
"Intersections envelops us physically and symbolically in a realm where beauty transcends division and conflict, " says PEM Curator of South Asian Art Sona Datta. "Agha's work asks us to consider worldly binaries — the sacred and the profane, inclusion and exclusion, male and female — while providing a sublime environment that leaves us in a state of awe."
Anila Quayyum Agha was born in Lahore, Pakistan in 1965. She received her BFA from the National College of Arts, Lahore, and an MFA in Fiber Arts from the University of North Texas in 2001. She has had solo exhibitions in the United States, United Arab Emirates and Pakistan. Agha is currently an associate professor of drawing at the Herron School of Art & Design at Indiana University Purdue University Indianapolis.
"Intersections" is on view at PEM from February 6 through July 10, 2016. For more info call 978 745-9500.
The Present Tense Initiative is PEM's dynamic, interdisciplinary exploration of contemporary art and culture and celebrates the central role that creative expression plays in shaping our world today. The Present Tense Initiative engages leading creative agents and thinkers to cultivate innovative experiences fueled by the intersection of cultures, disciplines and technologies. By encouraging innovation and fostering new forms of creativity, PEM seeks to push the boundaries of what a museum experience can be.
Attend this exhibit and see for yourself.
(Photo courtesy of the artist)