Providing talented students with an opportunity to perform musically at no cost to the public is the high note for the Salem Jazz & Soul Festival organization. And no where is that so obvious than during the City of Salem Jazz Appreciation Day, April 4 from 2-4 pm.
Performing this year will be the North Shore Jazz Project All Stars, a big band composed of the North Shore's premier high school-aged jazz musicians, directed by professional saxophonist Mike Tucker.
Larry Claflin Jr., the festival's executive director offers some extra insight, "The NSJP All Stars played our main festival last year, and the crowd was blown away by their talent, so we thought we'd invite them back to be featured at Jazz Appreciation Day."
The event, which kicks off Jazz Appreciation month, is produced in partnership with the City of Salem. Salem Five, a major festival sponsor, has donated the performing space in the Salem Five Community Room at 210 Essex Street on the Walking Mall.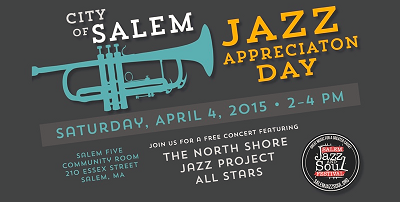 The Salem Jazz and Soul Festival is a nonprofit organization that produces free concerts and raises money to support music-education programs on Massachusetts' North Shore. The season lasts May through August – when SJSF puts on monthly, free concerts in partnership with Berklee College of Music – and culminates in a two-day festival at the Salem Willows in mid-August, featuring local, regional and national bands.
The SJSF/Berklee Summer Series at Derby Square, Salem, with Berklee College of Music student bands, on May 9, June 13, July 11, and Aug. 8.
The Salem Jazz and Soul Festival, a two-day concert at the Salem Willows, with 10 bands, a music-education tent, kids tent, 21-plus beer garden and artisans selling hand-made goods, Aug. 15-16.
Since 2007, SJSF has raised $50,000 for music-education causes north of Boston.
Show your support for young musicians, and be entertained at the same time. A Salem Saturday well-spent, and at no cost!
For more info visit salemjazzsoul.org.