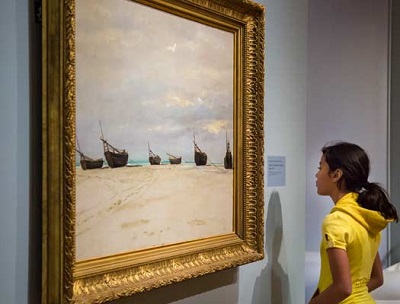 Explore the Peabody Essex Museum as you possibly never have before— and be part of a global experience as PEM joins other museums & organizations world-wide in celebration of Slow Art Day, Saturday, April 11th.
Slow Art Day ? Yes, you are invited to "take your time" for a closer look at art. Too often "appreciation" of art is measured more by the moving strokes of your watch than the brush strokes of the artist. In other words, for this one day, the world is being asked to stop and smell the roses of fine art.
Championed by The New York Times' art critic, Michael Kimmelman, Slow Art Day is part of a global, grassroots movement with a simple mission: help more people discover the joy of looking at and loving art.
PEM welcomes you to explore from 10 am -2 pm suggested works in the galleries at your own pace. It's ok; spend as many minutes as you need. Choose your own favorite works, or join PEM for discussions in the galleries of three selected objects to explore, at 10:30 am, 11 am, and 11:30 am. Then, join fellow visitors for lunch in the Atrium at 1 pm to discuss what you saw and felt.
Yes, share your perceptions. Absorb what others saw from their points of view. An inanimate painting or sculpture will create some animated discussions.
This year's program will be led by Rebecca Rohloff from the Art & Design Department at Salem State University.
Registration is required for this free event.  The Peabody Essex Museum is located at East India Square (161 Essex St) Salem. For additional details, call 978-745-9500.
(Photo by Robyn Gesek/PEM)