…And I hope you like jammin' too. The Bob Marley Ensemble will share their music and message Saturday, May 11th as part of the Salem Jazz and Soul Festival/Berklee College of Music Summer Series. Performance time has been reset to 5:30-7:30pm in Derby Square. It is sponsored by Lobster Shanty and expect to find a lot of good music and good feelings (and this is Salem, so there will be much good food to be had within walking distance).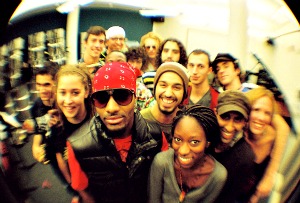 Matt Jenson, assistant professor of piano at the Berklee College of Music in Boston initially designed a class called "The Music and Life of Bob Marley" which presents an in-depth study of Marley's life, maintaining respect for the soulfulness of his music and for his message of love and resistance to oppression.
This one semester class consists of 15 auditioned singers and instrumentalists who come from around the world. In a lecture-demonstration format, Jenson takes the students on a biographical tour of Marley's fascinating life, and then rigorously coaches the ensemble as they prepare for performances.
Such as the one they will offer Salem. For more info go to www.salemjazzsoul.com
DrumFest & ZumbaFest
But that's not the only music in Salem on Saturday. Not one, but two kickoff fundraisers will play out for Salem Culture Fest.
Presented by A3D (African Development through Drum & Dance), a Drum Fest will fill the air at from 10-11am at St. Peter's Church. It is a drum circle event led by Mamadou Diop, president of A3D and leader of the award winning band "Mamadou."  For a $10 donation you can join in, bring a drum (some will be available).
Doors to the ZumbaFest will open at 12:30pm, with dance sessions running from 1:30-3pm. Fee to participate is $20. There will be vendors, refreshments, activities and raffles for participants before & afterward until 4pm.
These funds will go towards mounting the annual Salem CultureFest, set this year for July 20 & 21. All funds raised there will be used to support the organization's ongoing projects of educational development in Senegal, distribution of medical supplies to West Africa, and a donation to a local charitable organization.
For more info, go to www.a3dinc.org