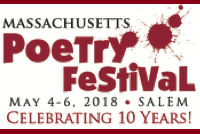 Launched as a recognition event 10 years ago to "pay tribute to the poets and writers of the past while experiencing the creative energy of today's literary artists," the Massachusetts Poetry Festival has since become the nation's largest such annual event. It showcases nearly 100 poetry readings & workshops, a small press and literary fair, panels, poetry slams, visual arts, and open-air performances.
This weekend, May 4-6, Salem once again plays host to more than 150 poets who will engage with thousands of New Englanders. Will you be among them?
Check out the full Massachusetts Poetry Festival schedule: http://www.masspoetry.org/schedule-2018
Panel topics range from the state of poetry, poetry and gender, book publishing, and modernism in contemporary art, to the Common Threads Reading, where contemporary poets with Massachusetts ties discuss their literary connections.
Speaking of poets, the 2018 Headliners include: Sonia Sanchez · Kaveh Akbar · Duy Doan · Jeffrey Harrison · Dorianne Laux · Erika Meitner · Carl Phillips · Nicole Sealey · Sean Thomas Dougherty · Rhina P. Espaillat
Venues
One of the reasons the Massachusetts Poetry Festival takes place in Salem is that we have so many venues that lend themselves to help promote the words and spirit of poetry.
Peabody Essex Museum, 161 Essex Street
Hawthorne Hotel, 18 Washington Square
Old Town Hall (Festival Headquarters), 32 Derby Square
Museum Place Mall, 1 E India Square Mall
New Liberty Charter School, Rooms 1-4 (on second floor)
The Bridge at 211 (former First Universalist Society of Salem), 211 Bridge St
Salem Waterfront Hotel & Suites, 225 Derby St

Mass Poetry was founded in 2008, after Mass Humanities and the Mass Cultural Council backed an effort to investigate the "state of poetry" in Massachusetts. Mass Poetry's founder, Michael Ansara, and former Congressman Chet Atkins felt that while the Commonwealth had as many talented poets as any state, there was little recognition or support for poets, and a huge disconnect between the larger public and the wealth of poetic talent.
The goals of Mass Poetry have been to support poets and poetry in Massachusetts, to build new audiences for poetry, and to make poetry more accessible for those who need it most—often those who have the least access to it.
Come to Salem this weekend, May 4-6, to see, hear & experience for yourself the power of words in the hands of literary craftsmen and craftswomen at the Massachusetts Poetry Festival.