"Anybody in Salem Ma feel like the final credits scene of Hocus Pocus as they walked out of the party dazed and exhausted? Happy New Year" —- SalemAMB at 7:27am 1/1/14 on Twitter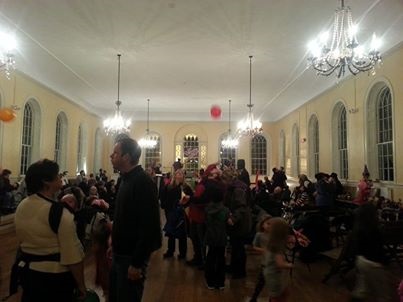 That fairly well describes Salem Ma this morning.
Whether you went to our LAUNCH of New Year's Eve (thank you very much) and an event at the Hawthorne, Opus or any of a dozen other celebrations last night, we hope you brought in the New Year with old and new friends.
2013 started out as one of transition for Salem Main Streets. Our previous manager Jennifer Bell had moved on and Matthew Caruso very capably stepped up to be interim manager so the search committee could find the right person to take over. And that they did with Kylie Sullivan (and no, I did not get paid to say that.)
Merchants in the Downtown District can attest to seeing her as a whirlwind of action these past few months. And especially so, working with the City and other groups to organize and launch last night's fun filled event on such short notice.

On behalf of the volunteers, thank you Matt, thank you Judy & Mira (Haunted Happenings Volunteer Booth co-cordinators), and most importantly—thank you Kylie. Job well done.
Now… how many days is it until Haunted Happenings 2014……???