Downtown Salem has numerous opportunities for artists and art patrons.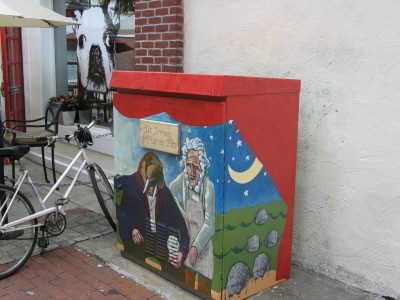 The Salem Arts Festival organized by Salem Main Streets is now accepting applications through March 31 for the Salem Arts Festival June 1 – 3. Go to the website www.salemartsfestival.com for more information. 
The City of Salem is also offering opportunities for artists. Artists are asked to submit designs for decorating downtown utility boxes by Friday, April 6. Selected artists receive $500.   See the city website at salem.com/pages/artbox to download the submission requirements and details for the Art Box Program.
The city has also just announced the opportunity for artists to apply for a spot in Artists Row for a seasonal program from May 24, 2012 – Oct 31, 2012.  Space is provided rent-free in exchange for free workshops/ performances.  Applications are available on the City's Website at http://www.salem.com/pages/artistrow  Applications must be received by or before 4:00pm, April 11, 2012.  
Finally the Lady of Salem Downtown Beautification project is looking for business sponsors to purchase figures to be painted by local artists. For more information please contact Ellen Talkowsky at 978-619-5676 or etalkowsky@salem.com or Mary Ellen Halliwell at memhalliwell@yahoo.com.