How much do you plan to spend on holiday gifts in 2017? The average for shoppers around the USA is approx. $983 according to the American Research Group, Inc which has been polling people every year since 1985. Nearly $1000 for the kids, spouse, family and friends. And if Black Friday, Small Biz Saturday and Cyber Monday didn't empty your wallet or fill all the stockings, then consider Festive Fridays in Salem.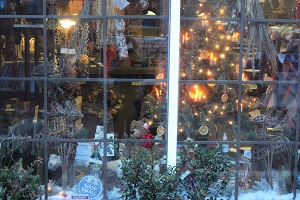 Festive Fridays is an effort to make shopping work a little better on your schedule as many of our stores will be staying open later on Friday nights. No need to rush to crowded malls. No need to fight for a parking space that will leave you with a 5 minute+ walk from the parking lot to the building.
And where else but in Salem can you find an eclectic array of stores and eateries from which to purchase products, services or just plain gift cards?
Salem Main Streets is encouraging downtown retailers to stay open late every Friday this December leading up to Christmas to help you with your holiday shopping! Each week, we'll post a list of businesses that have committed to staying open until at least 8 pm, as well as any great deals or special treats that you can look forward to.
Take a #selfiewithashopkeeper and you could win free parking via the Passport parking app!
This week's participating businesses include:
– The Artists' Row – Salem, MA tenants – Grace & Diggs, Hervor Soaps, Ceramics by Sibel, Boston Woodturning, ZBY Gallery, and The Lobster Shanty
– A Sacred Place Wellness Center
– Coon's Card & Gift Shop
– The Coven's Cottage
– FreakyElegant
– The Happy Sunflower
– Laura Lanes Skin Care
– Mark Your Spot Salem
– Modern Millie Vintage & Consignments
– Moody Interiors
– Ocean Chic Boutique & Waterbar
– Partridge in a Bear Tree Salem
– RJ Coins and Jewelry
– Salemdipity
– Trolley Depot
– Wicked Good Books
– Witch City Wicks
– Witch Pix
– Ye Olde Pepper Companie
We will update with more as participants are confirmed! We will also keep a light on for you!