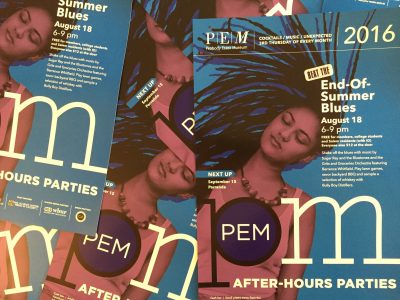 When the days of August fall to a precious few, unhappy memories of winters past resurrect themselves to create the "end of summer blues." You don't want to shovel snow again; don't even want to think of it again. Cheer up. The Peabody Essex Museum has the cure! Coming up this Thursday, Aug. 18th is the next PEM/PM late night party, called simply End of Summer Blues.
The key word is "blues."
The PEM invites you to come to the Museum from 6-9pm to enjoy local blues bands, be a part of the music with instrument making, and style yourself blue with denim art workshops. There will also be lawn games and backyard BBQ food while enjoying a selection of beer.
Let this celebration of the good times of summer help you moderate your perspective onto the good things of fall/winter. Special family visits. Pumpkin picking. Tree selecting and tree lighting. Snowman making. Ski trips. Holiday meals.  New Year's Eve parties.
Summer into Autumn into Winter is inevitable . Just as is Winter into Spring back into Summer. Each season has a value and this Thursday, PEM invites you to celebrate the summer of 2016.
The Peabody Essex Museum is located at East India Square (161 Essex St) in Salem, MA. For more info, call 978-745- 9500 .