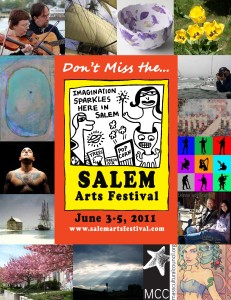 The annual Salem Arts Festival will be held June 3rd-5th. Now in its 3rd year, the popular and ever- growing event will feature over 75 artists including painters, photographers, poets, performers, to name a few.  The Festival is a family friendly event with free performances, free art making activities and a fantastic range of art on display.
Run by a team of volunteers, the Salem Arts Festival is a free event for residents and visitors, promoting the arts in Salem, and providing the entire North Shore arts community an opportunity to showcase their talents.
The Festival is spread out at a variety of venues in downtown Salem, anchored at the Essex Street Walking Mall and Museum Place Mall. This year live performances and demonstrations will be held outside, steps away from a large interior area where visitors can see the juried exhibitions.  
This year some of the many performers include a night of song after the opening reception Friday night; children of the Phoenix School in exhibit and in art creation; belly dancing – one of our most attended performances; and lots of local favorites playing like Machine 475 and the Dejas.
The Salem Arts Festival is offered free to all. Volunteers interested in helping with the Festival are warmly welcome and encouraged to contact Jennifer Bell at SMS for more information.