Women have played key roles in the history of Salem, from the Witch Trials to social reform and this Sunday there will be a number of special Women's History Days presentations to honor their efforts.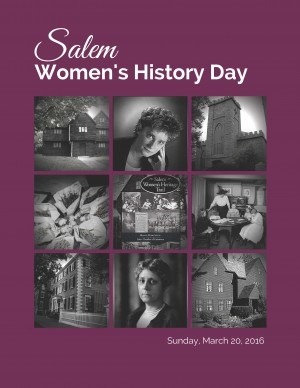 (In 1981 Congress established National Women's History Week to be commemorated during the second week of March. Then in 1987, Congress expanded the week to cover the entire month of March. Mayor Kimberly Driscoll has additionally proclaimed March 20th as Salem Women's History Day.)
The House of the Seven Gables
You are invited to a day of tours at The House of Seven Gables focusing on the roles that women have played on the property over four centuries. Yes, four centuries. The tours will be conducted at 11am, noon and 3:30pm.
Also Dina Vargo, author of the "Wild Women of Boston" will speak at 1pm with a book signing to follow. Local historian Robin Woodman will offer her lecture, "Strong Women of The Gables" at 2:30pm.
The House of the Seven Gables, open from 10am-5pm is located at 115 Derby Street in Salem.
The Witch House
The Witch House will be featuring an exhibit titled "Elizabeth Corwin: Her Book of Saints," a rare look into the private thoughts of a 17th century woman. Within the margins of her devotional book,
recorded in her own hand, are entries relating to her finances, property and independence as she transitioned from widow to wife in colonial Salem.
The Witch House, located at 310 1/2 Essex Street, Salem will be open 10am-5pm.
The Phillips House Museum
Join the Phillips House staff for a day of special guided tours focusing on the role of women at 34 Chestnut Street through the years. Tours will be conducted on the half-hour.
Historic New England's Phillips House, open from 11am-4pm is located at 34 Chestnut Street, Salem.
The First Church in Salem, Unitarian Universalist
The First Church in Salem, Unitarian Universalist will have on display for the month of March women's history material from their archives and a display titled "Standing Before Us: Unitarian Universalist Women and Social Reform, 1776-1936," complied by Bonnie Hurd Smith.
The First Church In Salem, Unitarian Universalist, open for this session from noon to 3pm, is located at 316 Essex St, Salem.
For fees, discounts and any suggested reservations, please contact each organization separately.