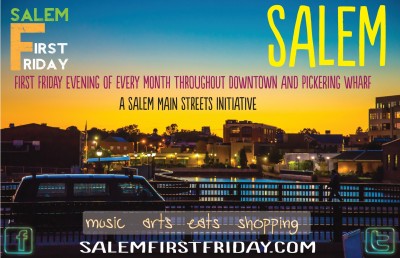 Downtown Salem is bustling with activity tonight – live music throughout the downtown, cooking demonstrations, free antique appraisals are just a few of the fantastic events for First Friday tonight, November 2. First Friday activities run until at least 8 p.m. with stores staying open late. For updates visit www.salemfirstfriday.com or friend us on Facebook. First Friday Activities include:
Activities/Events
Salem YMCA
– One Sewall Street-Enjoy Salem First Friday and leave the kids' at the Y! From 6:00-9:00pm leave your 5-12 year old at the Salem Y and while you enjoy First Friday events your kids will enjoy well supervised gym activities, gymnastics, sports, arts and crafts, swimming, and dancing! Pizza & drinks included. Mention Salem First Friday and save $5.00 off the $15.00 fee. Space is limited and you must call ahead to save a spot- 978-740-9622.
Avalanche Company Store
-24 Front St. –
Sports Massage Therapy, Tips appreciated
Boston Bead Company
-10 Front St. –
Fall Gemstone and Pearl Bead Trunk Show
Coldwell Banker
-7 1/2 Church St. –
Antiques Appraisal, Gallery by Patricia Dunbar
Glass & ETC
-1 East India Square Mall -Hosting the
Phillips House
–
historic glass and china collections
The Happy Sunflower
-78 Wharf St. –
Arts and Crafts for the little ones
Marias Sweet Something
-26 Front Street-
Author and Salem resident Roberta Chadis will be reading from her book Good Boy Jesse, a story narrated by her Golden Retriever
Pamplemousse
-185 Essex St. –
Organic Wine Tasting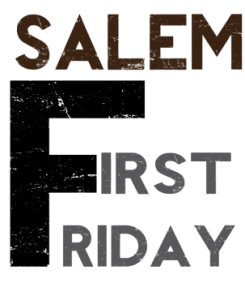 Picklepot
-75 Wharf St. –
Live cooking spice demonstration with Katelyn Madden
re-Find womens
-72 Washington St. –
Eyelash extensions, with Rosalyn Englehardt from Beautiful Me with goodie bags and refreshments
RJ Coins and Jewelry
-68 Wharf St. –
Timothy Kendall creator of the 2013 Salem Witch Trials
Calendar
Salem Arts Associatio
n-Artists' Row –
Featuring watercolor artist Paula Beaulieu
Salem Collective of Artists and Musicians
-Artist Row
– Collective art project, Contribute to a work of art, help them finish their 6-foot long paper mache dinosaur!
Seed Stitch Fine Yarn
-21 Front St. –
Fabulous Fashion Inspired Hats from Fiber Fashion Show
Victoria Station/Vic's Boathouse
-86 Wharf Street –
Complimentary Wine and Cheese, Art show featuring Dave Serighelli,  music and more
Witch DR
-109 Lafayette St. –
Glass blowing demo & discounts, Benjamin Stebbings Gallery opening
Music
Brodie's Seaport Cafe
-215 Derby St. -35
cent wings, (Cool Change performance at 8:30)
Cafe Polonia
-118 Washington St. –
Live Accordion performance 7-9 p.m.
Finz Seafood and Grill
-76 Wharf St.
$1 oysters 5-7 PM, & The Soul review project performance at 8:30
Front Street Coffeehouse
-20 Front St. –  Dj
Radio Skotvoid spins some chill coffee house vinyl
Gulu-Gulu Cafe
-247 Essex St. –
Underwater Airport, Ambient Folk Jazz 8:00 PM
The Lobster Shanty
-Artists Row Vein Performs at 7:30 and $1.00 pretzels
Treasures Over Time
-139 Washington St. –
Performance by
North Shore Acoustic Project
Special Offerings
  Beehive/Roost- 38 Front St. –
serving up refreshments
3 Potato 4
-East India Mall –
Mention First Friday Freebie for free space sauce
A Beautiful Corset/J'Adore Romantic Gifts
-10 Derby Square-
Open Fragrance Bar, refreshments and goodie bags
Every Occasion Boutique
-96 Wharf St. –
Free bracelet or earrings with purchase
Hair Express
-34 Front St. –
Open House with samples and complimentary refreshments
Mud Puddle Toys
-217 Essex St. –
Games with Blue Orange Games, 10% off games, game play and demos
re-Find mens
-244 Essex St. –
New business goodie bag featuring discounts from over 15 businesses
Rouge Cosmetics
-322 Derby St. –
Complimentary refreshments, Make up tips, 5% off