Has it been a month already since the last First Friday at Pickering Wharf? If you missed FF last month, this Friday, Sept. 4th is your chance to experience the interaction between your five senses and all that the Wharf stores have to offer.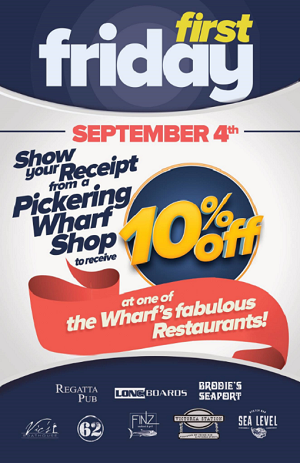 What began as a plan to recreate an 18th century shopping village theme at Pickering Wharf has evolved into a visually serene landscape dotted with an eclectic line-up of gift shops and many, many, many places to stop for lunch or dinner.
Then add to it the special touch of a First Friday when merchants stay open later and offer some extra special deals as a way of saying "thank you" to customers, and you have a great day trip / ladies night out / guy's night out destination this coming Friday Sept.4th
For example, show a receipt from any wharf merchant on this First Friday of the month, and the restaurants will take 10% off of your lunch or dinner that same day or evening (10% discount applies to food at participating merchants 62 Restaurant & Wine Bar, Brodies Seaport, Finz Seafood and Grill, Longboards Restaurant and Bar, Regatta Pub in the Salem Waterfront Hotel, Sea Level Oyster Bar and Kitchen, Vic's Boathouse & Victoria's Station.).
Find a good deal and enjoy a good meal. Pickering Wharf is located off Derby Street in Salem MA.