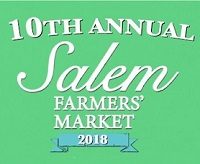 What do the following seven major farms have in common: Clark Farm, Gibney Gardens, Maitland Mountain Farm, Grant Family Farm, Heavens Harvest Farm, Long Hill Orchard, and Wally's Vegetables? They are the heart of the Salem Farmers' Market, which returns for its 10th season this Thursday from 3-7pm, at Derby Square on Front Street in Salem, MA
Just as every shopping mall has anchor stores which are the main attractions, so does a successful Farmers' Market have booths with general appeal items of summer vegetables, such as from the above-mentioned local and regional farms.
"Over the past decade, the Farmers' Market has truly become a destination for the community – it's a gathering place as well as an opportunity to get fresh, local produce and other one-of-a-kind goods," Salem Main Streets Executive Director Kylie Sullivan said, adding that the market typically draws over 2,000 market-goers weekly. "With the great range of vendors that we have, there's something for everyone at our Farmers' Market."
What Will You Find at Salem Farmers' Market?
For five months every year, the largely volunteer-run market gives residents and tourists alike the opportunity to buy farm-fresh produce, seafood, baked goods, and meats. Also available are an array of specialty foods, bakery products, spices, and non-food vendors. In total this year we have 35 participating vendors!
Exciting new additions (think of them as all the cute and intriguing smaller stores in the mall) to the 2018 market include Fixx Chocolates, Kim Gregory Pure Pastry, Red Antler Apothecary, Root NS, Sustainable Food Solutions, and Zen Bear Foods, along with many other surprises and additions throughout the season.
Every week the market offers live music and representation from different community groups and initiatives.
To celebrate the market's 10-year anniversary this year, attendees can look forward to limited edition swag, prizes, and special events popping up throughout the season, both at and outside of the market.

As in previous years, the Salem Farmers' Market will continue to take EBT through the Supplemental Nutrition Assistance Program.  In compliance with the City of Salem's plastic bag ordinance, we encourage attendees to bring their own bags – or buy a tote bag at the market to support our work!
The market is made possible through the leadership of Salem Main Streets and the Farmers' Market Committee, as well as the generous contributions of numerous volunteers.  We are still accepting volunteers to help with weekly set up from 1:30 to 3pm, help at the info table between 3-7pm, and break down help from 6:30 to 7:30pm. If you are interested in volunteering, please contact Salem Farmers' Market.
To get the latest updates about the farmers' market, visit our website at www.salemfarmersmarket.org, or follow us on Facebook or Twitter .
The Salem Farmers' Market will be held at Derby Square on Front Street in Salem, MA every Thursday from 3-7pm from June 7th through October 11th, 2018. Mark your calendar. Set aside a basket. And we'll see you on Thursdays!