"Creativity takes courage." – Henri Matisse
"Creativity is contagious. Pass it on." – Albert Einstein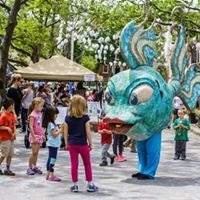 Art has stood the test of time as an expression of the times within which it was born. As the World Art Day celebration approaches on April 15th, here in Salem we look ahead to our own celebration of expression with the Salem Arts Festival, scheduled June 1-3, 2018.
For World Art Day, galleries and museums throughout the world are encouraged to have extended hours, hold conferences and panel discussions during the day, and host celebratory events in the evening. April 15th is the birthday of Leonardo da Vinci, a renowned painter, sculptor, writer, innovator, philosopher, and thinker.
Salem Arts Festival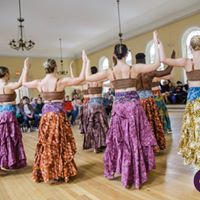 Over 5,000 people regularly attend and take part in our family-friendly festival, transforming downtown Salem, MA into an opportunity for the arts community to showcase a wide range of talents, not dissimilar to DaVinci. The Salem Arts Festival includes a gallery of juried artists' work in Old Town Hall, outdoor stage venues for performance and dance, an artist and artisan street fair, a collaborative public arts project, and much more!
"Salem is busting at the seams with visual artists, musicians, poets, dancers, makers, and creative individuals of all types. It's one of the many reasons people love living and visiting here," said Kylie Sullivan, Executive Director of Salem Main Streets, co-organizer of the Salem Arts Festival.
"In celebration of our 10-year anniversary, we will focus the festival around the Salem Main Streets themes of 'Live, Work, Play.' I'm very excited to see the different ways we can use the arts to explore what it means to live, work, and play in Salem."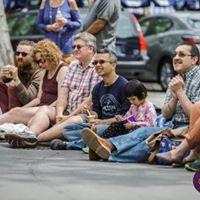 For the 5th year, a community-built public art installation is being included as part of the festival. Bee to Brick, this year's community art project, embraces the "Live, Work, Play" theme by celebrating some of the hardest "working" bugs out there – pollinators! Bee to Brick will install playful swarms of several hundred "bees" around the festival area, created entirely out of recycled plastic bottles and other reusable plastic pollution. After the project, the bees will be transformed into "bricks" by Phoenix School students for their "Bottle Brick Project."
Community groups are being sought who want to participate in a workshop, and/or individuals who can come to one of our Monday night workshops. All ages and abilities are enthusiastically encouraged to contribute, no skill set required. More information at www.salemartsfestival.com/bee-to-brick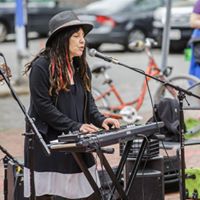 The Salem Arts Festival is especially pleased to announce that the festival, initially run as a project of Salem Main Streets, has expanded this year to be run in collaboration with the Creative Collective.
The Creative Collective is a group of invested creative professionals with the mission of connecting creativity, community and commerce. John Andrews, Creative Director, shared his thoughts about this partnership. "I am very excited to partner on another project with Salem Main Streets and expand the impact that the festival has on Salem and support the over 100 artists, performers, artisan vendors, and creatives that participate in this dynamic event."
The Salem Arts Festival is organized by Salem Main Streets, the Creative Collective and a collaboration of Salem organizations which provide support for the festival, including the City of Salem, Salem State University, Salem Food Tours, the Phoenix School, Salem Public Space Project, the Salem YMCA, Peabody Essex Museum, and the Salem Arts Association.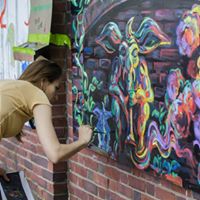 This program is supported in part by a grant from the Salem Cultural Council, a local agency which is supported by the Massachusetts Cultural Council, a state agency. The festival also relies on the gracious support of its other creative partners, including Retonica Event Lighting, The Scarlet Letter Press, and Octocog Marketing and Design.
If you would like to support this dynamic annual cultural mainstay for its 10th anniversary celebration, please contact Robyn Gianoppolo at robyn@creativesalem.com or visit salemartsfestival.com/support
For more information about the Salem Arts Festival, please see www.salemartsfestival.com or contact Kylie Sullivan at kylie@salemmainstreets.org or (978)744-0004 (x115)
(All photos from 2017 Salem Arts Festival, Facebook page)