Our friends at the Peabody Essex Museum had a long way to go to top last month's PEM/PM monthly evening party series involving Steampunk. And it looks like they have. All the way to China of 1929. This Thursday, Oct. 17 from 6:30 – 9:30pm enjoy a live performance by Devil Music Ensemble as they play their original score for Red Heroine, one of the only remaining feature-length martial arts films from China's silent era.
Made at the height of the martial arts craze in 1920s Shanghai, this lively tale features the genre's blend of pulp and mystical derring-do.
As noted in a summary of a NY Times review:
This silent Chinese film serial consisted of 13 chapters. The story featured orphan Yun Mei (Fan Xueping), who survives a brutal attack by a warlord that killed her grandmother. She is taken in by a monk (director Wen Timin) who schools her in martial arts. When she masters her talents, she seeks to exact her revenge on the warlord, who spends much of his time cavorting with concubines. ~ Perry Seibert, Rovi.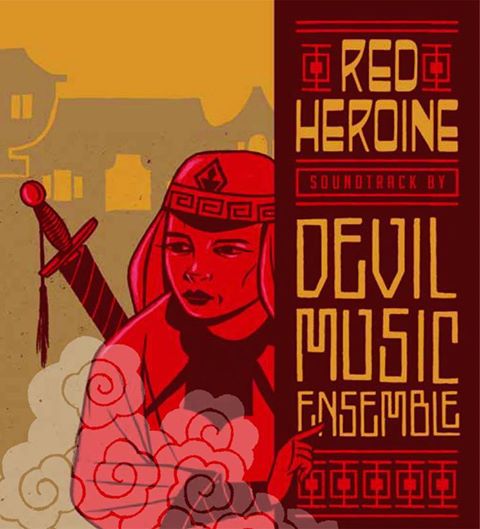 Enhancing the visual performance, will be the sound provided by Devil Music Ensemble. Founded in 1999 by Brendon Wood, Devil Music Ensemble explores many facets of music — rock, electronic, orchestral, folk, improvisation, incidental, etc. The band's original scores have been credited with enhancing the film-watching experience for all.
The trio recently finished a European tour, giving live soundtrack performances to Red Heroine in 12 countries in Western and Eastern Europe.
The PEM/PM evening events also include a Lion Dance followed by Kung Fu demonstrations led by Grandmaster Winchell P.C. Woo, founder of Chiu Mo Kwoon, the first traditional Kung Fu school in the Boston area. There will, as often does happen at these PEM/PM events, be a food tasting and chef demonstration. Try your hand at art making.
Admission is free of charge for PEM members and Salem residents (with ID); nonmembers pay $10 at the door. For more info, call 866‐745‐1876 or visit pem.org. The Museum is located at 161 Essex St, in Salem Ma.