Rivendell is coming to Salem, featuring music from Lord of the Rings, Game of Thrones, Star Wars, and More – as performed by the New England String Quartet. It is the much-awaited second production from Salem Classical and is set for Saturday, Jan. 16, at 8pm in Old Town Hall.

Rivendell is of course an Elven outpost in Middle-earth, a fictional realm created by J. R. R. Tolkien. It can be found, for example, in the The Lord of the Rings tales.
As for Salem Classical, it is intended to become the home of classical music located in the heart of the pedestrian zone of historic downtown Salem with the Old Town Hall as its principal venue. Created to establish a musical home for local and touring musicians, it is designed to provide a constant source of classical music to the residents of Salem and the thousands of visitors to the city.
The fertile mind behind Salem Classical is Richard Guérin, and we asked him two basic questions to help entice potential attendees. Why a string quartet and why science fiction & fantasy themed music?
Guérin explains, "the medium of the string quartet is the most intimate of them all. The grandiosity of the scores chosen for this program take on an entirely fresh form for listeners when heard this way."
On the other hand, he points out that string quartets present the greatest challenge to composers, "to many it's the most intimidating way of writing because for centuries it has been the proverbial mirror to which composers hold up to themselves to see if they have anything to say as artists – because it's not possible to hide behind the orchestra."
By expressing this music through the intimacy of a quartet, the Rivendell concert will bring the folk tunes of our time into a fresh light, all the while also showcasing their absolute musical value. Translate that as give your ears a delightful treat!
Established in Boston in 2007, the New England String Quartet is dedicated to expanding the contemporary chamber music tradition through performances, recordings, educational activities and community outreach projects. The ensemble seeks to develop collaborations with contemporary composers, soloists and other ensembles. Having made their debut at Weill Recital Hall, Carnegie Hall, the ensemble is featured in concert series across New England including 3rd Sundays @ 3, Menotomy, Bach's Lunch, Parma Music Festival and the Chromatic Club of Boston.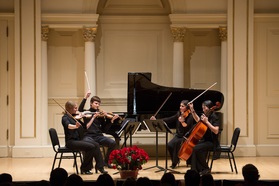 The quartet also collaborates with popular music, soundtrack, and video game producers. In 2014, NESQ recorded soundtracks for Lord of The Rings and Dungeons & Dragons online video games (for Warner Bros. Entertainment).
Guérin describes, "The huge canvas and broad brush strokes of the brilliant tapestry of sound Howard Shore created in his scores for Lord of the Rings will be communicated brilliantly through this new arrangement by Nikolai Clavier by an ensemble the size of which you might find in a pub in the Shire."
"And as a simple matter of musicality," he adds, "I don't think it would be an overstatement to say what Ramin Djawadi's theme to Game of Thrones which we will hear performed by the sublime New England String Quartet, is possibly the biggest ear-worm composed in the last decade. I met Djawadi this summer in Poland and heard the piece played by a 100 piece orchestra in a stadium of 10,000 listeners. I myself can't wait to hear it in the warm setting of Salem's Old Town Hall with some of the finest players in this area."
As for the SF/fantasy theme of the music, he notes we are in Salem which can have its own comparisons with Rivendell.
"The strongest commonality is the sense of being a magical place. People from all over the world come to Salem and we meet them all the time. I met someone from California last week visiting Salem for the first time. To her eyes Salem appeared to be a movie set. She'd go up and knock on the bricks to see if the buildings are part of a set like in Hollywood."
Guérin points out "Salem's greatest asset is, more than any other factor including its history and architecture, its gravitational pull that makes you feel you are at a destination. There are very strong reasons why people want to live and work here and it's the same magical pull."
As odd as it seems, this concert might be the first opportunity some of these people have had to hear a string quartet. For more info on the quartet, go to www.nestringquartet.com
"There's a great responsibility here to present interesting things in the right way because everything Salem Classical will present, will aim to transcend barriers and make people excited to come hear what we are doing. These things happening in Salem are so exciting and wonderful, even if it's like the weather north of The Wall," muses Guérin.
He concludes, "The music on this program is tremendously important to me and to have a chance to bring people together in Salem to celebrate it, is significant. This is music that everyone knows and loves."
For the full musical program go to this Creative Salem page. For ticket details go to Eventbrite.