While the every 3rd Thursday of the month PEM/PM late night party is a festive & educational stroll through the Peabody Essex Museum, this week's may well prove to be the most creative. The theme in fact is "creation."
Artopia asks "what's your creative story" and from 6-9pm on March 17th, the community as individuals, groups and organizations respond.
For example…
Observe or take part in the creation of a pinwheel. But not just any pinwheel. Participants will connect to distant cultures by taking time to draw out cultural patterns from across the world, directly onto a sailcloth. This will in turn be included in Move With Me, which is a collaborative public art project scheduled to be featured during June's Salem Arts Festival.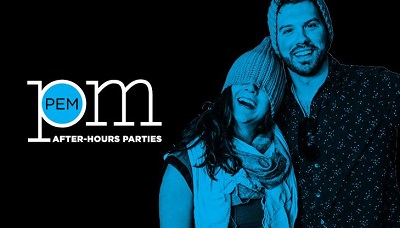 Or consider decorating vintage-style postcards using collage elements, along with members of the Salem Arts Association. Let those creative juices flow as you build a story with words and pictures from vintage books, papers, glue and scissors. And best of all, you can share the creativity by email with a friend.
Looking for something a bit more "techie?" How about a session where you can create your own GIF! It will be presented courtesy of Figsburry Creative Group and Retonica.
Plus, you can't talk about creativity in Salem without referencing the Salem Film Fest; enjoy a compilation of short documentary tangos around the town, from the perspective of local and visiting filmmakers featured in this year's Salem Film Fest.
What about liquid creations? You will find creative samples from Far From the Tree Cider, Notch Brewing Co., Rumson's Rumb and Deacon Giles Distillery in a Taste of Salem in the Atrium.
Listen to beats built by participants in a workshop led by Salem-based producer Qwill. Get a look at how they built their own drum racks, breaks and percussion samples. I
And much more. For a full line-up check out this info page at Creative Salem .
There will be a cash bar and small plates menu available from the Hawthorne Hotel. The Peabody Essex Museum is located at 161 Essex Street, Salem MA.
Create: to cause to come into being, as something unique that would not naturally evolve or that is not made by ordinary processes.
You will not only see creativity, you will get the chance to express it yourself!