"The creative process is something where you sometimes limit yourself— but other times you let it grow. You have to let it do things that seem a little uncomfortable to find something new."
Words and thought process from Diane Hoffman, owner of Diane Hoffman Textile Shop on Artists' Row.
But make no mistake about it, she is in control of that entire creative process. Design, printing, and sewing.
Diane Hoffman Textiles is a one-woman textile business. All products are hand printed and made by hand with locally sourced and recycled material. Silkscreen and stamp printed woven (cotton and recycled feedbags) materials are sewn into tote bags, clutches and chic duffels. — many with interior designs! It's that extra step which makes her work special and not easily comparable to items at department stores.
"If you want your cat on a bag, I can do it for you," Diane explains. "I can turn orders around quickly because I am not ordering from far away places."
She's been here for three months focusing on hand printed textiles and knits, featuring rescued pets and farm animals from New England.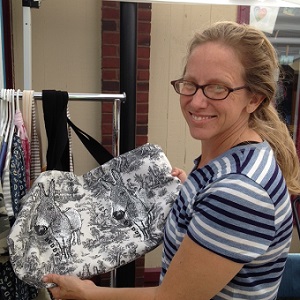 She tries to bring past and present together. She shows us a toile, (Toile de jouy is a fabric originated in France in the 1760s. The original patterns usually depicted pastoral scenes). It has a donkey within the pattern but she added a larger version donkey to bring it to the forefront as part of her creative process to find something new.
"The more things I can add, the more connections I can make between the ideal world and the real world, will help keep up the idea of rescue animals and farm animal that are in need of a lot of upkeep to raise. We need to bring this to the public's attention so as to not let animals become something we humans use but not respect."
Her current project on t-shirts and bags is doing road dogs and cats. If nothing else, Salem has plenty of cats, and you can't go a day without crossing paths with several people walking their dogs.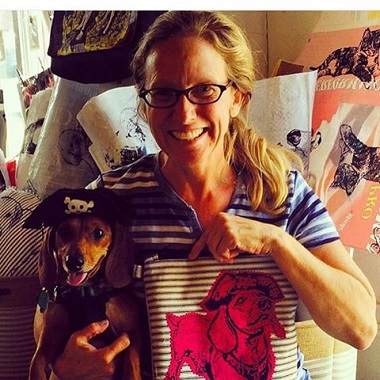 "I am doing one right now of Slinky. He is a little dog that wears a pirate's hat."
Also in keeping with her thoughts about doing "things that seem a little uncomfortable to find something new," she holds community print demo sessions on Thurs 4-6pm.
"We try to get people to come & do artwork. And I think the work they do is quite good." But the materials are the interesting element. An upcoming session will use not paint but powdered graphite (which has an oily feel) and stencils.
Her unit is #24 New Derby Street. Asked why did she want to open shop on Artists' Row, Diane responds…
"I love this community. Very lively. Greats arts community. Salem is very aware of its past, but also very progressive. And the Farmers' Market is here. All these parts. The idea is that you get inspiration from other artists, there is so much energy here on Artists' Row."
A good portion of it provided by Diane.
Silk screens to put ink on canvas, fabrics with a vintage feel, bold images on material like the type used for hats of old-time train engineers. These and more are what you'll find at Diane Hoffman Textiles, open daily 11am-6pm (except Monday) and open until 7pm on Thursday. For more info, go to her website.