Happy Holidays

from

Salem Main Streets

Director, Jennifer Bell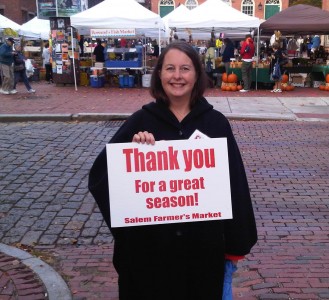 Thank you to the many volunteers and members of the Salem Community who have been so supportive of the Salem Main Streets program and my efforts for the last five plus years. Together we took a dormant Main Streets program and seasonal town and developed thriving programs which are enjoyed by thousands; the Salem Farmers' Market, Salem Arts Festival,Visitor Ambassador Program in October, Salem First Fridays and more. Salem has become the Dining Destination on the North Shore and over 80 new businesses have opened in the downtown in those five years. Main Streets took over the management of the Salem's So Sweet Chocolate and Ice Sculpture Festival, Salem's Ice Scream Bowl, Mayor's Night Out, Holiday Happenings and we supported the efforts of new events such as the Salem Film Festival, Salem Literary Festival, Mass Poetry Festival, and Living Green and Renewable Energy Fair which have grown into popular events. We started the reusable tote bag program "In Salem, Green is the New Black" and helped make Salem a greener city with the support of the Downtown Business community.
These programs were only possible through thousands of hours of volunteer time each year donated to Salem Main Streets by hundreds of volunteers and support by the City of Salem, and community partners like the Salem Chamber of Commerce. Salem should be proud of the spirit of volunteerism and can do attitude that prevails. No project is too big, too new to begin. Salem is a unique place which celebrates its history while embracing the present and looking towards the future.
My family and I have enjoyed living in Salem and being able to contribute to the Salem Community. Thank you to the many people who have shared their time and talents to make a difference especially: Matt Caruso, Gary Gill, Judy Kearney, Jeanne Scott, Ben Bouchard, Anthony Scialis, Wendy Davidson, Tom Daniel, Ellen Talkowsky, Ron Malionek, Ann Massey, Cheryl Michaels, Marlene Faust, Alex Southerland, Beth Paquin, Kristin Rogers, Jim Vaughey, Aaron Martin, Christian Haselgrove, Cheryl Michaels, Kelly O'Connor, Dan Faust, Dan Rogers, Gina Flynn, Phil Dwight, Stacey Pappas and too many others to name. 
I wish you all success and great happiness!