You are now joining our program already in progress— if you are coming to Salem Ma. this Saturday or Sunday to participate in our annual Salem Arts Festival. But that's ok. There are more than enough events and creative arts presenters to satisfy your viewing interests.
Now in its sixth year, the Salem Arts Festival boasts attendance numbers in the thousands and celebrates all the arts: painting, photography, sculpture, dance, music, writing, film, new media, performance, theatre, poetry, culinary, and more.
This year's event also includes a street fair, plus live entertainment on two performance stages (located in Derby Square and on Artists' Row).
One of the more colorful events, which already took place, but you can join in progress is
the HulaArt project. "Re-use of recycled materials to create diverse art expressions" is one way used to describe what essentially was the presence of "over four hundred hula hoops, a fifth of which were transformed into HulaArt, form a colorful canopy above Salem's Artist Row."
But true to this being a part of an Arts Festival, even the delivery and installation of the hoops to create the canopy was performance art. You can walk under the canopy of hoops. You can look up and marvel at the circles and shapes. And you can even try your hand (or waist) at hooping yourself.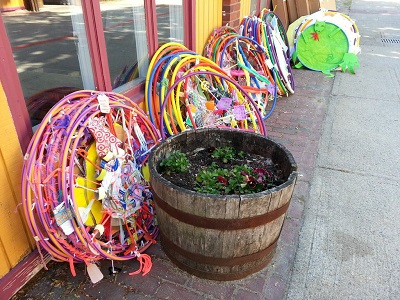 We feel this is a great representation of our hopes for the Arts Festival, it is something you can participate in as well as just view.
Kylie Sullivan, Manager of Salem Main Streets comments "The amount of love, imagination, and hard work that has gone into the HulaArt is absolutely incredible, especially on the part of our partners at the Salem Public Space Project and the Phoenix School, in addition to our sponsors and the support of the City of Salem.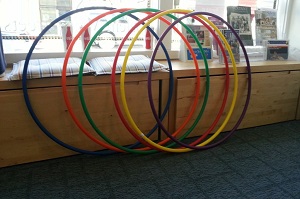 She adds "This project exemplifies so much of what we're trying to accomplish with this year's Arts Festival – collaboration, community, and transformation of space."
No need to bring your own hoop, we have plenty to spare and share.