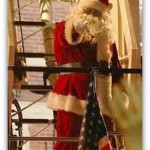 People always ask us what we think is the most popular costume seen in Salem Ma. Witch? Ghostbuster? Vampire? We like to say that it depends on the time of year. And for the winter season, without a doubt it is the bright red outfit worn by a certain Kris Kringle during his annual landing atop the Hawthorne Hotel on the first Friday of December.
This year at 6 pm on Dec. 5th, hundreds of on-lookers, children and adults, will be stationed around the Hawthorne on Washington Sq., looking up, up, up to the roof to await Santa's arrival.
Assisted by the Salem Fire Department, the jolly one will climb down the side of the hotel on a ladder to meet/greet his fans. There will be a procession to the Salem Gazebo for cocoa and caroling, then the parade heads over to the Museum Place Mall for pictures with Santa.
Weather forecast as of today calls for partly cloudy skies on Friday, with temperatures in the mid to low 30s. Perfect weather for reindeer. And kids too, of all ages.
For those of you who have never seen this: here is a Vine video we ran last year (thank you Salem News & Hawthorne Hotel).