Local historian and lecturer Jim McAllister (who recently was designated as the "Official Historian of the City of Salem Ma") will present the latest installment of his "52 Lectures, 52 Weeks" series Tuesday, March 10 at the Salem Witch Museum. The subject is Nathaniel Hawthorne, Salem native and well known author of The House of Seven Gables and The Scarlet Letter. But, McAllister has a twist on the normal Hawthorne/book discussion. He will focus on Hawthorne as a partner in one 19th century America's greatest romances as it unfolded in the shadow of Washington Square. (The Salem Witch Museum is coincidentally at 19½ Washington Square North.)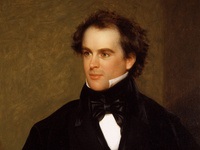 Apparently it was "bizarre" and involved compacted romantic entanglements with Mary Silsbee and Elizabeth Peabody in the year that preceded his involvement with his future wife, Sophia Peabody, sister of Elizabeth.
Sophia, also born in Salem Ma, was an accomplished painter, illustrator, and an author of articles.
McAllister's talk will chronicle important moments in Nathaniel and Sophia's courtship. He will escort you on a journey through the couple's good days and bad ones over the course of their two-decade long marriage.
With the weather showing no snow in the forecast, if you're looking to venture out of your "cabins," this discussion offers a warm invitation. It will run from 7:30 – 9 pm. But, due to space limitations, most of McAllister's lectures require reservations. For more information please write to culturecorner@gmail.com or call 978-979-5907.