Salem Ma will be joining tonight a long list of cities similarly engaging in an activity simply known as National Night Out; last year, it is reported, 38 million people took part in street closures, block parties and just plain old community interacting across the USA.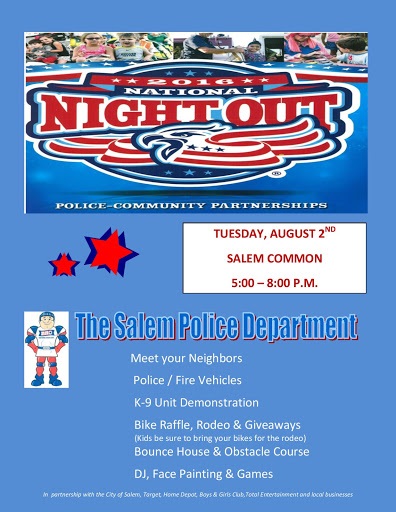 Created in 1984, NNO is an annual community-building campaign that promotes police-community partnerships and neighborhood camaraderie to make our neighborhoods safer, better places to live.
Salem's first National Night Out! will be held from 5 – 8 pm on the Salem Common and will showcase a selection of police and fire vehicles, face painting, a demonstration by the Canine Unit, a bounce house, obstacle course, bike raffle, and more!
"We are excited about our first hosting of National Night Out," stated Salem Police Chief Mary Butler "We see this as a great opportunity for the men and women of the Salem Police Department to make connections with the residents and businesses, and display our continued commitment to strengthen our police-community partnership."
Among the businesses & organizations participating as sponsors are Target, Home Depot, the Boys & Girls Club, and Total Entertainment.
Sunset will be at 8:01pm on this National Night Out. Under partly cloudy skies, the low will be 61 degrees with only an 11% chance of rain. Looks like a good evening to hang out on the block, or several different blocks, to engage in some conversation with your neighbors.