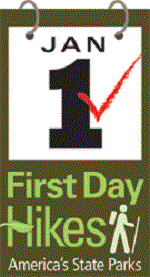 The City of Salem is telling residents to "take a hike" — literally, as in urging participation in First Day Hike, a national initiative established by America's State Parks. Salem's First Day Hike runs (walks) from noon to 2pm Friday, January 1, 2016, offering several courses with varying degrees of difficulty.
As Salem is already quite a walkable town, we're sure that many residents and visitors have easily "hiked" along Washington Street, and across Essex or Derby as they shopped our Downtown District. This extra walk to experience the Salem Maritime National Historic Site should be no sweat!
For example, hikers may choose to walk around the Salem Common, and then walk from the Common to Derby Wharf Light House. Or they may just walk from the beginning of Derby Wharf to the Light House. Check out the map for more details on the hike's course.
"Many of us use New Year's as an opportunity to make a resolution and set goals for the upcoming year," points out Salem Mayor Kimberly Driscoll. "First Day Hike offers residents an opportunity to start the New Year with some exercise or just a chance to get out and celebrate the holiday with other members of the community."
Last year nearly 28,000 people across America participated in First Day Hikes to kick off the New Year, collectively hiking over 66,000 miles throughout the country!
You obviously would not be alone.
And, if you aren't much of a cold weather hiker but this event whets your appetite to do more, here are a few tips, courtesy of the American Hiking Society.
Dress in layers. While it is perhaps nice to have a huge, fluffy parka on the ski slopes, it really isn't practical for the trail. Instead, take several layers you can peel off or put on when you stop and go on the trail. Your base layer should be a wicking fabric that will pull your sweat away from the skin.

Overheating is a dangerous threat

since excessive moisture that isn't allowed to escape can freeze and cause hypothermia. If you ever wondered why some of your jackets have zippers under the armpits, it's to keep air circulating and prevent your clothes from getting wet.
Wear a hat! Our heads are filled with oxygen-carrying capillaries which fuel our brains and consume one third of the body's energy. During the colder months it is important to keep your head covered to maintain function and not lose precious body heat. You may want to bring a warmer/heavier hat for rest periods.
Keep your water bottle warm. Whether you are at the campsite or on the trail, a foam sleeve like a koozie will help prevent the water from freezing in a bottle. Nothing warms your body or your spirits like warm liquid by a campfire. Boil water to take with you as you hike. Also, to keep water from freezing, keep your water bottle on the inside of your jacket – properly sealed, of course.
National Parks Superintendent Paul DuPrey adds, "Salem's outstanding quality of life is built around its history, its open spaces and its people. Come out on New Year's Day to enjoy all three and put your best foot forward."