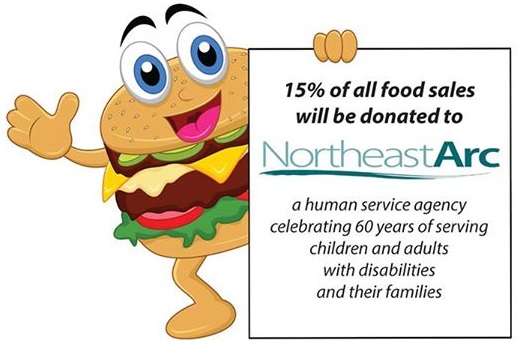 Community involvement is a signature mark of many establishments in the Salem Downtown district. Tuesday, for example, A & B Burgers  is holding an event simply stated as "Burgers & Fries & Fundraising." The restaurant will be donating 15% of non-alcoholic/food sales generated from 5 – 9 pm to Northeast Arc. And there will be local celebrity guests & hosts.
Northeast Arc ensures that children and adults with disabilities are able to live, work, engage in civic life and play in the community. This is accomplished by offering a wide variety of programs including Autism Services, Day Habilitation, Deaf Services, Early Intervention, Employment Services, Family Support, Personal Care Assistance, Recreation, Residential and Transition Services.
Among the celebrity hosts and special guests at Tuesday night's event will be Senator Joan Lovely, State Representatives Jerry Parisella and Ted Speliotis, Mayors Edward A. Bettencourt, Jr. of Peabody and Michael P. Cahill of Beverly, Essex County Sheriff Frank Cousins Jr. and John Boris, owner of John A. Boris & Associates.
And, after your dinner, if there's ever been a time to not feel guilty about extending your meal for dessert, this is it. All for a worthy cause.
A & B Burgers is located at 50 St. Peter Street. For more info, call 978-594-8607 or 978-498-4997.