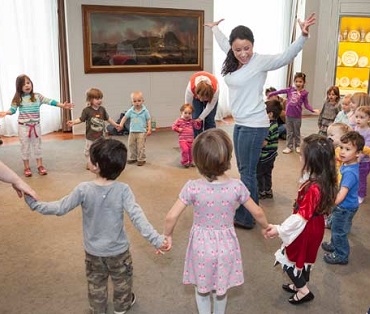 Not every tourist destination can offer "kid-friendly" events on a regular basis— but here in Salem, we can. As proof, we present the on-going PEM/PEM Pals. This is a fun, interactive program with books, movement, music, art and hands-on activities designed specifically for preschoolers and their caregivers. It is presented Wednesdays from 10:30 to 11:30 am at the Peabody Essex Museum.
Residents and visitors alike are welcome to attend.
For example, last week they read The Deep Blue Sea (which was in keeping with the theme of the current exhibition Turner & The Sea). There was also an adventure & fun with a sea-related craft.
This week the sea theme continues with a reading of Big Al, a book about a really big, but really friendly fish named Al.
The month will round out with special guests.
On Aug. 20 participants will be joined by Mr. Whirly (aka Keith Wasserman). He has some fresh tunes to share from his new cd, so attendees should be ready to dance!
On Aug. 27, you might want to keep your dancing shoes on because Teresa Coelho from Music Together will be available with all her instruments for children to try!
In fact, we suggest you take a look at the entire "Kids & Families" schedule for August at the Peabody Essex.
PEM/PEM Pals operates on Wednesdays  from Sept. 4, 2013 – Dec. 24, 2014. It is made possible with support from Target and American Dental Partners. For additional info call 978-745-9500.