Let's repeat three words. LARGEST. SAILING. SALEM. Our seaport community was a key player in the early days of this country's maritime exploration and trading. And it's nice to see that our connection to the water continues as more than 400 junior sailors from around the country are expected to participate in the 2015 United States Optimist Dinghy Association (USODA) Optimist Dinghy New England Championship in Salem, Aug. 4-6 from Winter Island.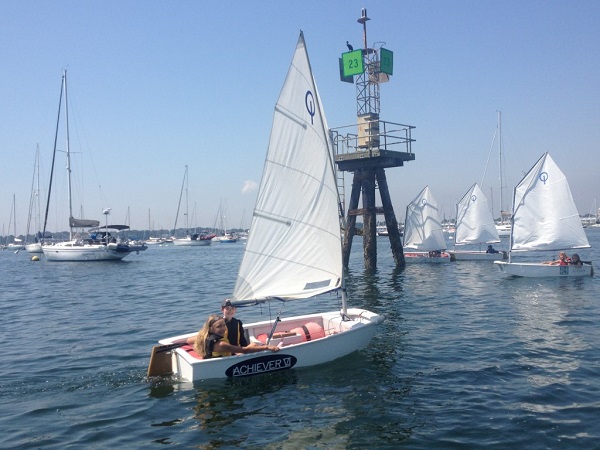 This is the largest junior sailing regatta in the United States, with sailors between the ages of 9 – 14. You noticed we didn't say "sailors" to qualify the reference. These young people are every part of the word.
As an example just look at Sail Salem, which is the local host. It offers an educational program for children that promotes positive life skills and values through the sport of sailing. Founded in 2008, Sail Salem has introduced sailing to over 1,000 children from Salem and surrounding towns.
And it's not just a one-time summer thing. Children have grown up through the program, from beginner, to intermediate sailor, to counselor in training, to sailing coach. The majority of a junior instructors are former students of Sail Salem.
According to Sail Salem, "Lessons are conducted in Salem Harbor off Winter Island to bring the love of sailing to many children who would not have had the opportunity to be on a boat."
Adults are also encouraged to sail and evening lessons for all levels are available throughout the summer.
No wonder the 2015 Regatta is being held here. Previous competitions have been held in Newport, Rhode Island, and Portland, Maine
What does this have to do with the Downtown District, which is what we usually talk about? We expect a sizable percentage of those 400 sailors and families to explore Salem either before or after the regatta. We would like them to feel welcome. Spectators interested in watching the races from the water will find regatta tours at Sea Shuttle and Mahi Mahi Harbor Cruises.  Charter boats are available through McLaughlin Boat Works and Zim Sailing. Regatta accommodations options can be found at Salem.org.
One other thing. Sail Salem is still looking for volunteers to help with some of the on-land activities. Contact Pat Connolly-Atkins at pat@sailsalem.org if you would be interested in helping.
Sail Salem and the 2015 USODA New England Championship Regatta are sponsored by Cabot Wealth Management.
Complete regatta information can be found at SailSalem.org.