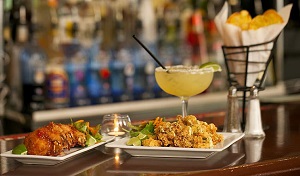 Lest we forget with all the March Madness of the Final Four in basketball and the Final Two (or Four?) in politics, that Restaurant Week continues in Salem Ma. You have another chance to sample the best of the best in local dining for the next five days, March 20-24.
Served up as a promotion by the Salem Chamber of Commerce, participating Salem restaurants will offer either a specially priced two-course prix-fixe dinner menu, or a three-course prix-fixe dinner menu, or both (price will not include drinks, taxes or gratuities).
Here is a list & descriptions (subject to change) provided by the Chamber of Commerce website.
A MANO Italian Kitchen & Pizzeria – View Menu Here
62 Wharf Street, Salem, MA – (978) 744-0062
A MANO is a brand new modern Italian trattoria and pizza kitchen serving contemporary versions of regional Italian classics in downtown Salem. Chef Antonio Bettencourt and his team are dedicated to using the best locally-sourced, all natural ingredients in season and at the peak of flavor. The cooking at A MANO shows true soul and a commitment to the true "craft" of cooking. Their cocktails and wines are chosen especially to match their distinctive cuisine.
Adriatic Restaurant and Bar – View Menu Here
155 Washington Street, Salem, MA – (978) 594-1832
Adriatic is a casual dining restaurant featuring the cuisine of the regions surrounding the Adriatic sea. Fresh fish and seasonal vegetables, together with a wood burning pizza oven, create the main menu. In addition, Adriatic has a nice cocktail list, a great wine program, and a professional staff, that help guests to enjoy a delicious lunch or dinner with their family and friends.
Bella Verona – View Menu Here
107 Essex Street, Salem, MA – (978) 825-9911
Chef-owner Giorgio Manzana hails from Lake Garda Italy in the Provence of Verona and has a hotel-restaurant background that goes back over 35 years. Bella Verona enjoys catering to their clients, creating new dishes and continuing the simple good and authentic home-style cooking of Manzana's region as well as other parts of Italy. As an Italian restaurant in the heart of Salem, they will bring you back to Verona, the home of Romeo and Juliet, to lose yourselves in the atmosphere and excellent food. In keeping to their traditional roots they offer creative options with homemade pastas, and great daily specials.
Cilantro – View Menu Here
282 Derby Street, Salem, MA – (978) 745-9436
Cilantro features authentic, hearty, and diverse Mexican specialties in an upscale but easygoing brick-walled setting. Fresh specialties such as crispy flautas rolled around chicken, pico de gallo, guacamole, and queso fresco are breaths of fresh air. Pair your dinner with a delightful margarita or choose another delicious cocktail from their menu.
Finz Seafood & Grill – View Menu Here
76 Wharf Street, Salem, MA – (978) 744-0000
Finz Seafood & Grill has a great reputation in Salem and around New England for fresh, innovative seafood and grill fare, not to mention delicious specialty drinks. With indoor and outdoor waterfront dining, Finz is a great place to relax and enjoy outstanding food and drinks. Zagat's rated Finz Seafood & Grill one of the Top 10 Waterfront restaurants in New England.
Firenze Trattoria – View Menu Here
2 Lynde Street, Salem, MA – (978) 219-1188
Firenze Trattoria is chef Zamir Kociaj's way of sharing his passion for the authentic tastes of Firenze with the historic town of Salem. Merging years of experience with a neighborhood vibe, Firenze Trattoria is the perfect place to celebrate the simple moments with loved ones and friends while dining on delectable Italian fare.
In a Pig's Eye – View Menu Here
148 Derby Street, Salem, MA – (843) 870-1105
'In a Pig's Eye'… your food will be gone before you know it! Now under new ownership of Jim Gaddis, In a Pig's Eye is one of Salem's long standing restaurants and has been voted one of Salem's best pubs. The food focuses on authentic southern cooking including real southern BBQ, and the atmosphere is complete, with live music weekly.
Nat's at the Hawthorne Hotel – View Menu Here
18 Washington Street, Salem, MA – (978) 825-4300
For an unforgettable fine dining experience in Salem, enjoy the ambiance, warmth and hospitality of award-winning seasonal cuisine from Nathaniel's restaurant. The menu features contemporary dining in a historic setting, while offering a carefully crafted wine menu and scrumptious desserts that will complete any night out or special occasion.
Opus – View Menu Here
87 Washington Street, Salem, MA – (978) 744-9600
With what can only be described as a maverick kitchen, Opus' cuisine boasts unexpected flavor combinations that simply taste amazing. The restaurant's dynamic sushi team draws on both east and western influences to create sushi rolls that are truly unique. The upstairs dining room is centered around an oversized, glowing glass bar where guests can meet for a drink or enjoy a three-course meal. Downstairs, in Opus Underground, guests can enjoy nightly entertainment in a Moroccan-inspired space filled with cozy seating and thought-out details. Opus is a go-to destination for live music, dinner, and cocktails seven days a week.
Regatta Pub at the Waterfront Hotel – View Menu Here
225 Derby Street, Salem, MA –  (978) 740-8788
The Regatta offers casual dining with flair. Try their signature "Regatta Blue" martini with your favorite burger or fresh seafood with a glass of chilled wine. The Regatta Pub offers an eclectic choice of appetizers, salads, sandwiches, and entrees in a relaxed and nautical inspired atmosphere, or chose to dine outside on their patio, weather permitting.
Rockafellas – View Menu Here
231 Essex Street, Salem, MA – (978) 745-2411
Rockafellas established a new tradition in dining in the center of historic Salem in 2003. As the most delicious occupant of the renowned Daniel Low Building, Rockafellas restaurant follows several other institutions of reputation including a department store, a bank (the vault now stores wines) and one of the first churches in America. Their menu features fresh seafood and Black Angus steaks and offers everything from burgers and salads and tapas to gourmet presentations. The wait staff assures a relaxed atmosphere where everyone feels at home.
Sea Level Oyster Bar – View Menu Here
94 Wharf Street, Salem, MA – (978) 741-0555
Located on Pickering Wharf, Sea Level Oyster Bar boasts two floors of fun while offering comfortable dining and great waterfront views. Sea Level also features a sit down raw bar packed with the freshest shellfish around. With an extensive beer list and creative cocktails that will quench your thirst while the kitchen cooks up fabulous seafood, gourmet pizzas and more, you are guaranteed to leave satisfied! Don't forget to try their scrumptious desserts stamped in approval.
Thai Place – View Menu Here
Museum Place Mall, Salem, MA – (978) 741-8008
Thai Place Restaurant has been open since 1990. Being the first Thai Restaurant in the North Shore area of Massachusetts, they are proud to be one of the first establishments to present the unique taste, culture and sincerity of Thailand. Thai Place's dedication to prepare the finest Thai food comes with experience, care for their customers and careful selection of the freshest ingredients.
Turner's Seafood at Lyceum Hall – View Menu Here
43 Church Street, Salem, MA – (978) 745-7665
Turner's Seafood at Lyceum Hall is an authentic New England seafood house in an iconic 1843 building with noted cultural history, complementing their family's seafood heritage spanning four generations. This is where they prepare the catch-of-the-day becoming classic appetizers, entrees and creative daily specials. Turner's shucks and serves the finest local and regional oysters & clams in their classic raw bar. And, their seafood market, Salem's only, offers fresh, raw and prepared seafood to enjoy at home. It's important to get to the docks early as good fish go fast but, the best go to Turner's… then to you….dock to table … same day!
Victoria Station & Vic's Boathouse – View Menu Here
86 Wharf Street, Salem, MA – (978) 745-3400
Overlooking Salem harbor, Victorian Station has established itself as a destination for friends and family for decades and is committed to providing lasting memories for generations to come. Offering a wide variety of fine American cuisine from succulent steaks to the freshest seafood and one of the last remaining "All you can eat" salad bars, there is something for every member of the culinary community.
Village Tavern – View Menu Here
168 Essex Street, Salem, MA – (978) 744-2858
"The Village", Salem's American Tavern, was opened way back in '12 by the Ingemi Clan – two brothers, Alex & Andrew, their dad, Arthur "Old Pop" Ingemi and his loving wife, "Mama Rosa". With the love of satisfying olde time traditional foods, music, and beer (Courvoisier for Old Pop), they devised a place that would bring together people from all over to meet, drink, eat and enjoy themselves in a relaxed and fun establishment. Whether you're here for some great BBQ ribs, scratch-made country cookin', our famous burgers, live music, craft beer, partying in our private function room, or just strolling the streets of Olde Salem and need a rest – you are always welcome here at the Village. Cheers friend!
Please call each restaurant for specific information, prices and reservations. Then enjoy!