Yes, almost the same headline as yesterday's blog, because today, Sunday April 27th offers yet another day of fun-filled community events:
5K Road Race & Fun Walk, 9-10am
Wicked Good Books Giveaway, 10am – 2pm
Y Art show at Gulu Gulu, 4-6pm
A mostly flat and fast course awaits an expected 400 runners and walkers today during the 18th Annual North Shore Wellness Fair 5K Road Race & Fun Walk. The race, hosted by Salem State University, promotes and encourages a healthy lifestyle. Proceeds benefit LifeBridge, the Northeast Animal Shelter and the Wellness Center at Salem State University. Streets along the race route near Canal Street and Lafayette Street will be affected during the race time, which is from approximately 9-10am.
Be there, bring a chair, breathe fresh air.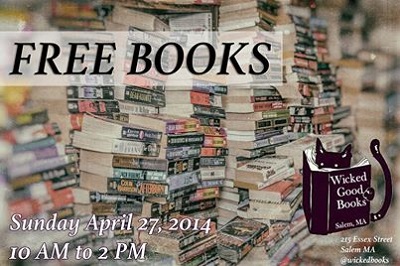 Afterwords, you can run or jog over to our brick and cobblestone Pedestrian walkway on Essex Street for Day #2 of the Great Book Giveaway. It's a BYOB (bring your own box or bag) free book event. Where The Derby Bookstore once stood, soon will be Wicked Good Books, 215 Essex St. Surplus books in the changeover are being made available to the public today as they were yesterday.
What kind of books are there for the taking?
From the Wicked Good Books Facebook page "We have quite a mix left for FREE, including lots of mysteries, gardening, cookbooks, and self-help, and a HUGE assortment of Young Adult. Please share!"
Speaking of sharing, Salem YMCA program participants will offer for your viewing pleasure over 140 pieces of art, courtesy of the Gulu Gulu Cafe. Head to the Y Art Show at the Gulu, 247 Essex St, from 4-6pm, and if you see something you like then bid on it to support the Y! The day will include a silent auction, music, art, and fun! Music by Jeff Savlon & Brian Donnelly.
Co-sponsor, Salem Collective of Artists and Musicians (SCAM), assisted by holding an art workshop with the Y kids and in hanging the artwork!
All proceeds benefit Salem YMCA childcare programs and initiatives.
It will be another great day to visit Salem Ma. We welcome you to our community.