We discuss Salem fun activities and developments on a regular basis, but this time out, the spotlight falls on a tragic event involving an early morning house fire in our city.
In response, on Tuesday, Salem Mayor Kim Driscoll posted this to her Facebook page:
As you may know, an early morning fire at 60 Dow Street has left several families in need of assistance. At present, seven units have been affected by the fire, resulting in the displacement of 45 individuals, including 16 children.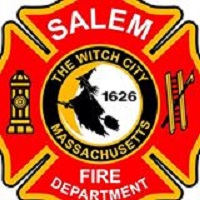 In the aftermath of the fire, which broke out early this morning (approx. 1am), the families were placed at the Council on Aging building on Broad Street with the assistance of the Red Cross. As of this afternoon, the Red Cross has provided vouchers for up to two-night stays at a local hotel and families have been transported to this location for the night.
In terms of needs, housing is the top priority at the moment and we are working with a number of organizations to help in this regard, including the Salem Housing Authority and our local Veterans Department. We are hoping that some of the units that were minimally damaged can be made habitable again within the next week, but we still expect there will be residents in need of housing. Anyone interested in renting a housing unit in Salem to one of these families should contact the Mayor's Office at mayor@salem.com and we'll forward your information to the prospective families.
In addition, many families lost a majority of their possessions, including clothing, furnishings and other household items. We are working to set up a fund at Salem Five Bank where charitable donations can be made to assist families financially with purchasing items they need. Anyone wishing to make a donation should make the check payable to the 'Dow Street Fire Victims Fund'. Donations can be mailed/dropped off at Salem City Hall, Mayors Office 93 Washington Street, Salem, MA 01970.
Lastly, we are putting together a list of clothing needs for those affected and will be setting up a drop off location for a clothing drive for families. Details on the clothing needs are below.
Call for Clothes (Children and Adult size shoes, pants and shirts):
– One 6-month old
– 7 Boys & Girls 5-10 years-old
– 9 Boys & Girls 11-19 years-old
– 9 Men & Women 20-30 years-old
– 17 Men & Women 30+
As you can imagine, this has been quite traumatic for many of the folks involved and I want to recognize and thank the city departments and outside agencies who have stepped up to help out, in particular the Red Cross, who was on the scene early along with our own Salem Fire Department (great stop by our firefighters).
We have received offers of assistance from near and far – including the Governor's Office and several local individuals – and I am hopeful that we can provide some level of assistance to those most in need. Salem is great at coming together in a time of need and we'll provide additional updates and ways you can help over the next several days.