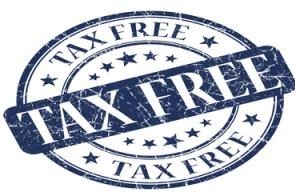 Tax break time! Not that we ever need an extra reason to attract visitors to our diverse downtown district in Salem, MA, but if you want one, we have it this weekend. The 2014 Massachusetts Sales Tax Holiday Weekend  is set for Aug. 16 & 17.
What is that? "Two consecutive days during which most purchases made by individuals for personal use will not be subject to Massachusetts sales or use taxes" reads the recently enacted statute. The current state sales tax is 6.25%.
It continues, "on those days, non-business sales at retail of single items of tangible personal property costing $2,500 or less are exempt from sales and use taxes, subject to certain exclusions. The following do not qualify for the sales tax holiday exemption and remain subject to tax: all motor vehicles, motorboats, meals, telecommunications services, gas, steam, electricity, tobacco products and any single item whose price is in excess of $2,500."
Did that say steam? In any case, there are many more items that are covered by the exemption. Come to Salem. Look through any store window along Washington St, Essex St, over to Front and Central and Derby Streets. Travel to Pickering Wharf and everywhere in between. You'll find an assortment of items that lean on the city's historical, literary, seafaring, and 'witch-themed' notoriety.
All are priced to sell nicely, with this weekend's tax break as extra incentive.  Many local businesses are offering promotions this weekend, including 15% off at Treasures Over Time (Saturday only), 20% off at newcomer Edward John Home Decor, and The Urbane Cyclist's biggest sale of the year.  So get out there and start shopping!