Local food, fashion, drink, dancing, and fun await you April 14th as you are invited to attend the fourth annual Salem Arts Festival Fashion Show Fundraiser in support of one of Salem's greatest festivals (we refer of course to The 9th annual Salem Arts Festival which will be held June 2nd to 4th, 2017)!
"The Fashion Show gets bigger and better every year, and it's really the perfect way to introduce the dynamic, locally-focused energy behind the Arts Festival," says Kylie Sullivan, Executive Director of Salem Main Streets (SMS), the community non-profit organization which oversees the Festival. "The need for financial support is critical for the success of the festival, which annually welcomes over 5,000 attendees to downtown Salem over the first weekend in June.  We are committed to keeping the festival free and open to the public, but we're also committed to paying our artists – that means we need to raise some substantial funds."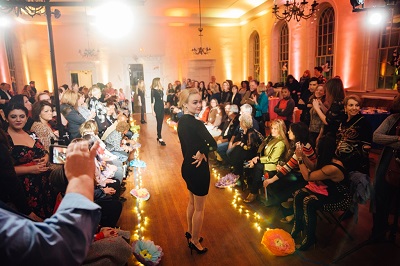 The event will be held upstairs at the beautiful and historic Old Town Hall at 32 Derby Square, this year with a record-breaking number of boutiques.
The Fashion Show annually highlights a growing number of local boutiques – including Avalanche, Beach Bride Baubles, The Boutique, Curtsy, Emporium 32, J. Mode, Lifebridge's Second Chance Thrift Shop, Modern Millie Vintage & Consignments, Ocean Chic Boutique & Waterbar, the Peabody Essex Museum Shop, re-find and re-find men's, and RJ Coins and Jewelry, with professional stylist Lisa Ann Schraffa Santin on hand. Make up will be provided by the fabulous artists from Laura Lanes Skin Care, Rouge Cosmetics, Radiance Aveda, Arbonne by Roz, and Victoria Crisp, with hair styling by Bella Hair Studios and My Barber Shop.
Karen Scalia of Salem Food Tours is the mastermind behind all fashion show logistics and staging, and Creative Salem serves as the show's media partner – locals know that means it's going to be an amazing night. Attendees can additionally expect some fantastic outside-the-box accoutrements from local creative genius Grace & Diggs, a photo booth with Creative Salem, and mind-blowing lighting by Retonica. Food by Ferreira Foods, drinks by North Shore Bartending, dancing with DJ Seth, and a great raffle will make the evening complete!
Advance tickets are $25 per person with a cash bar, with $40 VIP tickets available for an assigned seat on the catwalk and a free thank you treat. Tickets purchased the day of the event are $30, with $45 for VIP seats – but this event has sold out the past two years, so we don't recommend waiting!
Purchase tickets over the phone at 978-744-0004 x115, in person at 265 Essex Street (Salem Main Streets), or online at https://salem-main-streets.ticketleap.com/fashion-2017. Proceeds directly benefit the Salem Arts Festival.
About the Salem Arts Festival
This popular free event features over 100 artists and performers, and includes a variety of art, music, dance, and theatre performances. The family-friendly event also includes an artisan street fair, art-making activities for all ages, and a temporary community-created public art installation.  The Festival is run by Salem Main Streets in collaboration with a team of dedicated volunteers, including representatives from Creative Salem, Salem State University, the Peabody Essex Museum, and more. The Salem Arts Festival is supported in part by the City of Salem and a grant from the Salem Cultural Council, a local agency which is supported by the Massachusetts Cultural Council, a state agency.
(Photo credit to Creative Salem)