What is better than one great New Year's Eve party? Two!!! In conjunction with the City of Salem and Creative Salem that is what you are going to get to bid farewell to 2016 and say a big hello to 2017 with LAUNCH! and LAUNCH… Light It Up!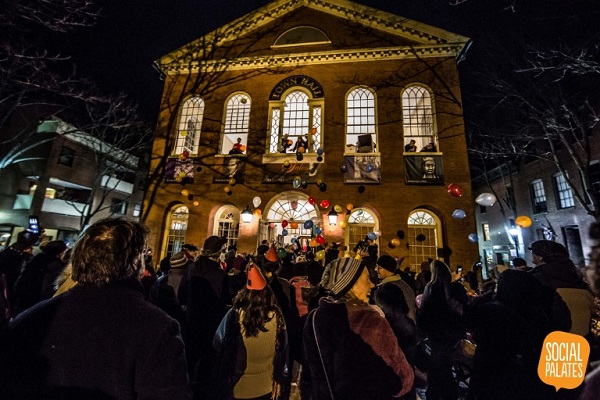 "When we organized LAUNCH! for the first time a few years ago, it was immediately clear that there was a strong community desire to come together on New Year's Eve," states Kylie Sullivan, Salem Main Streets' Executive Director.
"This event has always been family-focused and kid-friendly, which is fantastic, but there was an opportunity to do more to serve the adults in our community. The City approached Creative Salem to develop a concept, and we've been working closely together to program and connect the two events."
"We were very excited to create a new concept event featuring local creative organizations coming together to create a truly unique and wholly Salem happening that could also support the amazing family event that Kylie and Salem Main Streets have run and we have supported since its inception" states John Andrews, owner of Creative Salem.
Launch!
The early portion of the evening (4-6pm, Old Town Hall) will be the traditional LAUNCH! event. This event is free to all and family-friendly, with a $5 suggested donation to help support Salem Main Streets' "Holiday Happenings" initiatives, including the Holiday Tree and the wreaths and ribbons around the downtown. Family programming will include hat making, photo booth, kids' silent disco, interactive art exhibit with Phil Wyman, and more! There will be an early countdown just before 6 pm.
Volunteers are needed for a variety of jobs:
Set up (2 to 4pm): Volunteers should ideally be able to lift up to 25 pounds.
Greeters (4 to 6 pm): Greet people at the door and collect optional donations.
Craft activity support (4 to 6 pm): Help activity leaders as needed.
Face painters (4 to 6 pm): We're not looking for high levels of artistic talent – ability to paint hearts, stars, and "Happy 2017!" is sufficient.  We'll provide the paint and brushes.
Break down (5:45 to 7pm): Volunteers should ideally be able to lift up to 25 pounds.
Launch… Light It Up
Come back at 9 pm for LAUNCH…LIGHT IT UP, new this year, as Creative Salem and Retonica transform Old Town Hall into a Black Light Dance Hall! This 21+ event will be $20 per person with a cash bar, live performance by local group Dandrew, sounds by DJ Seth, arcade games courtesy of Bit Bar, hat making with Grace & Diggs, plus a photo booth, food by Bambolina, interactive pop up art exhibit, and a special countdown at midnight. Tickets are available at https://creative-salem.ticketleap.com/launch-light-it-up-nye-salem/
About Salem Main Streets
Salem Main Streets' mission is the continued revitalization of downtown Salem as a vibrant, year-round, retail, dining and cultural destination through business retention, recruitment, and the promotion of the downtown district.  SMS produces and supports numerous community events and initiatives throughout the year, including the Salem Farmers' Market, Salem Arts Festival, Salem's So Sweet, and the October Information Booth.  SMS operates thanks to the generosity and partnership of the City of Salem and Mayor Kimberley Driscoll, the Salem Chamber of Commerce, Destination Salem, and many other local business sponsors and community volunteers.
About Creative Salem
Creative Salem is an organization of like-minded creative individuals with the mission of ensuring creativity and the arts are a relevant part of daily community and small business life, and operates through the support of its partners and members. Creative Salem celebrates the city of Salem as a hub of creativity, and is dedicated to promoting collaboration, facilitating quality artistic events, and providing contemporary tools for local creative professionals to find and connect with new audiences while encouraging them to apply their skills to help solve challenges facing the community.
For more information about these events, contact Kylie Sullivan, Salem Main Streets Executive Director, at (978)744-0004 or kylie@salemmainstreets.org, or visit http://salemmainstreets.org/