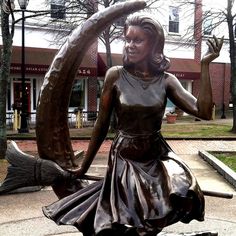 Reflections are how we "see" ourselves. A mirror, a pool of water, the eyes of a loved one. But how does a city such as Salem see its reflection? In the comments of visitors.
To test this point, we found this favorable review of Salem, as seen through the eyes of an Australian traveler. (Thanks to a posting on Destination Salem's Facebook page back in June).
Linda Bentley from Sydney, Australia is a well-known traveler/reviewer with her own website The Packed Bag and it was interesting to observe the things she wanted to see and did see. Was it the historical, the hysteria, or the hysterical items that called to her?
The blog was simply called USA – Massachusetts: Salem
Potential long stay and short term day trip visitors can look at her blog as a summation of things to do and see in Salem the year round.
But we can use it as a mirror to determine if we are communicating what we want to the outside world. What do you think? Did she share an engaging, inviting, diverse "message"  about Salem, MA?