September means many things to people along the North Shore, but  here in Salem it foretells the approach of October  and our month-long celebration of all things Halloween-related.
As Salem prepares for its busy October tourist season, residents are invited to help people who come to the Witch City that month make the most of their visit.
"Salem Main Streets is recruiting 60 – 80 volunteer ambassadors to staff the downtown information booth during October weekends and Halloween day itself; the booth is located at the Essex Street pedestrian mall," announces Judy Kearney, co-coordinator (along with Mira Riggin) of the SMS booth project.  The ambassadors will hand out maps to tourists and provide them with information about Salem's attractions, businesses and October events.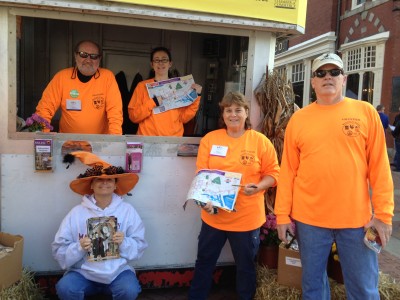 She adds, "There is also a particular need for multilingual ambassadors to assist international visitors."
Each volunteer ambassador will be asked to commit to two, two-hour shifts and to complete a training program scheduled for 9:30am on September 21 at the National Park Service Regional Visitor Center, 2 New Liberty Street.
The downtown information booth operates each year in October and last year assisted more than 27,500 visitors.
For more information or to become a volunteer ambassador, email Judy Kearney at judykearney830@gmail.com, Mira Riggin at mriggin2@comcast.net, or call Salem Main Streets at 978 744-0004.