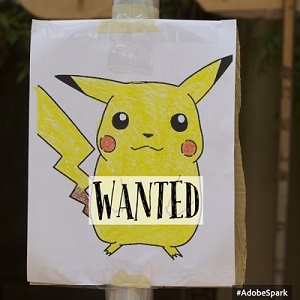 Fad or not, the search for Pokemon has quickly (and surprisingly) ingrained itself into the hearts and minds of people of all ages the world wide— and Salem is a perfect example with this Sunday's (2-8pm) "SalemGo! Catch Em' All!" city-wide Pokemon Go event that will include a scavenger hunt, a costume contest, various prizes, pizza, and (of course) Pokemon!
John Andrews of Creative Salem, one of the sponsors explains, "The event will be an all-day Poke-walk that will be open to any willing participants. You can casually follow the map with some friends, or you can participate in the Pokemon-Themed scavenger hunt that will take you all around town."
Chris Ricci, driving force behind the project further explains that "SalemGo! Catch Em' All!" will be a team event. "There will be a maximum entry of three people per team, so be sure to team up with some pals! Bringing a battery charger would be ideal, and you can get portable ones fairly inexpensively at electronic stores. And be sure to dress well for the weather! This summer has been unpredictable, and it could be a scorcher on Sunday, so dress well and stay hydrated!"
John adds, "So excited to be hosting this amazing Pokemon event this Sunday throughout Salem. Working with our friends at @livelongandpizza and @silvermoonc0mics and more, this is a must attend for Pokemon fans."
In fact Flying Saucer Pizza Company will be the official Pokemon Center of the evening where you can grab a bite as well as some specialty drinks.
And Silver Moon Comics will be hosting the costume contest; everyone is encouraged to give it a go and have fun with it!
Salem Main Streets caught up with Chris Ricci for some additional insights on "SalemGo! Catch Em' All!"
Fads come and go. What makes Pokemon Go different?
"Fads are interesting in more recent years as the vast majority of them have been strictly digital. Apps and games have taken the world by storm, and I distinctly remember everyone and their mother playing Angry Birds like there was no tomorrow.
But, now here's Pokemon Go, which I think is extremely different despite falling in the same category. Pokemon Go combines the nostalgia of the old Pokemon games from the mid-to-late 90s and adds in not only a digital element, but a virtual reality element. The app quite literally forces you to walk around to accomplish anything, which is marvelous because it's essentially an excuse to go outside.
Naysayers and detractors will say how people shouldn't rely on an app to go outside, but why not?
People are having an incredible amount of fun playing it, and the game itself is inter-connected with everyone so if you see a Pokemon in your vicinity, other people in the same area can too. We live in an incredible town that has tons of places to not only catch Pokemon, but to earn experience points and to battle, and we also live in a place where people can feel comfortable doing so without the looming fear of something bad happening.
So, yes, this fits the mold for a fad, but the ripple effect that Pokemon Go is having on the city is unlike anything I've seen in games."
According to Salem Patch, here are five of the many Pokéstops in Salem:
Salem Witch House
St. John's Roman Catholic Church
Essex County Bell
The Lady of Salem
Salem Superior Court Building
Have you found any at your office itself?
"Oh, of course! There's been a whole bunch in the office and around the office itself. We live in a city that is very busy when it comes to Pokemon, and this was taken into account when it comes to the walk that is scheduled. It's going to go through various terrain to insure that there are a wide range of different Pokemon to catch!"
And… What teams are you and the other sponsors?
"This is a good question. Personally, I'm on Team Valor (Red) and I know some of our sponsors are on Team Mystic (Blue), but in the end, the teams don't really matter. Especially for the walk. You can have a team full of Valor members, or you can mix it up and play with your friends that are on other teams. When I designed the walk, I only had one thing in mind: having fun. And it's much more fun to play with a bunch of friends as opposed to rivals."
Be sure to check the Facebook page event for more info on "SalemGo! Catch Em' All!"
And we will see you Sunday!