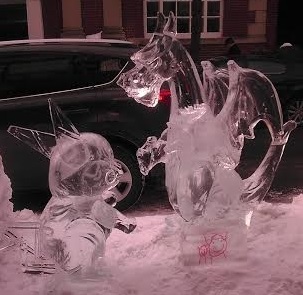 Salem has been invaded by ice creatures, but worry not, as they are friendly. Early morning joggers and breakfast attendees were greeted throughout downtown Salem by workers gently unloading and placing ice sculptures in per-determined sites as part of the Salem's So Sweet Chocolate & Ice Sculpture Festival.
This year there will be more than 15 large sculptures around downtown Salem, with themes including a mermaid, ruby slippers, a rocking horse, and many more! A map of sculptures and locations is available here and on brochures distributed around town.
Take the kids out and see how many you can find. Make a day of it in Salem.
Many downtown businesses will offer discounts and special offerings throughout the festival! Pick up your Golden Ticket at any of the participating businesses during the festival, have it validated at participating businesses (no purchase necessary), then enter to win a Salem's So Sweet gift basket. A full list of participating businesses and promotions can be found here.
NOTE: due to the historical amounts of snow we have received, the Salem Trolley will not be running its route on Feb. 7 and 8 as initially planned.
After all the ice on the sidewalks and streets we've had to endure and groan about recently, it's nice to see ice in a way to make you smile. The Salem's So Sweet Chocolate & Ice Sculpture Festival  runs Feb. 6-15th.
(Hint: Pikachu and Charizard in front of Harrison's Comics & Pop Culture)