Spreading the word about Salem, MA to a global audience is up to you today. The Peabody Essex Museum is holding an all day Wikipedia Edit-a-thon, 9am-5pm in the Create Space 2 area of PEM. It is open to the public and free of charge.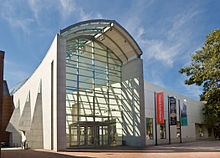 Native American and Chinese art collections will be the focus of the day. It will be a fun-filled event with a social purpose. And another great way to spend a Saturday in Salem doing something completely different than last week!
"We're bringing together Wikipedia editors, museum staff and anyone interested in joining the ranks of Wikipedia's global volunteer editor corps to share PEM's unique resources with the world," explains Ed Rodley in a recent Connected PEM blog.
Rodley, who is Associate Director of Integrated Media at PEM, adds "We'll be uploading images of objects from our permanent collections, while learning how to write and edit Wikipedia articles…and meeting new friends."
With over 4 million English language articles, Wikipedia is considered the world's most successful online encyclopedia. Anyone with Internet access can be an editor but there are of course rules and guidelines.
Training, advice and guidance will be offered at PEM Edit-a-thon by experienced Wikipedians as well as by museum personnel.
You are advised to bring your own laptop and charger.
Lunch will be provided (pizza) plus coffee, tea and water, but you may bring your own.
For a full schedule of the day's activities go to the PEM Edit-a-thon Wiki page where you can also sign up.