We mentioned this on our Facebook page, as probably other community organizations have commented in posts on their Facebook or Twitter accounts, but we think it really merits repeating: avoid driving to Salem this weekend.
We don't have any hard statistics, just real time observations which lead us to believe that there are a lot more people checking out and enjoying all that Salem Ma has to offer this year. Parking is hard to find. Streets are getting backed up with traffic.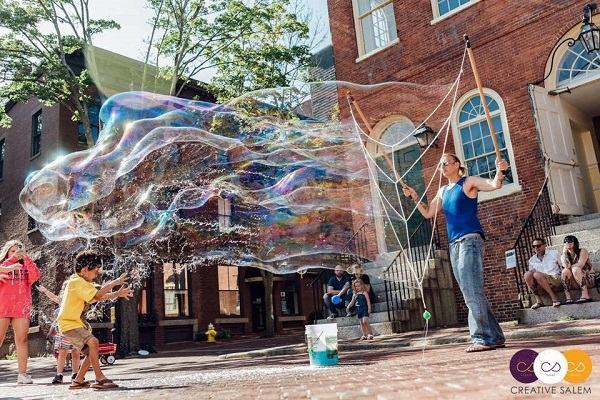 The idea is to spend a day in Salem Ma and have fun. We want that to be what you take away when you leave.
So, leave the car at home. Take the train. Or ride in on any number of MBTA buses  that pass through the Witch City. Or travel aboard the Boston Harbor Cruise ferry. There is a lot going on. As a perfect example, here is an advisory from the Salem Police Department in reference to this weekend:
Saturday, October 15: Salem YMCA Witch City 5K road race starts at 9am at the Salem Willows. No road closures are planned, however anticipate traffic delays along the following roadways: Memorial Dr, Essex St, Rte 1A, Rte 114 including Hawthorne Blvd, Derby St, and Fort Ave, ending at Restaurant Row.

Sunday, October 16: Witch Ride Motorcycle Ride has been rescheduled for Sunday October 16. Rte 114 and Rte 1A will be impacted, but not closed to traffic, from Marblehead to New Derby St. Rte 1A, including Derby St, will be closed to traffic between Lafayette St and Congress St. Congress St will also be closed to traffic. Anticipate road closures and traffic delays from noon to 3pm. There will be a no parking tow zone on Derby St between Lafayette and Congress St from 11am to 3pm.

Saturday & Sunday, October 15 & 16: There will be no on-street parking on Essex St from Hawthorne Blvd to New Liberty St from 6am to 10pm. This section of Essex St will also be closed to through traffic from 9am to 10pm. Access to Museum Place garage will be via Brown St only.
Although every effort to keep roads open will be made, please be aware that any roads necessary to maintain public safety will be closed without notice. Officers will be posted in key intersections at peak times to assist with traffic when possible.
Many businesses and organizations in Salem go to great effort to provide entertaining & informative diversions for you, we just want to make sure you have an easy way to get to them all!