No sooner does the energy of the Salem Arts Festival fade from Derby Square / Artist's Row area than the Salem Farmers' Market moves in with just as much fanfare, sounds, sights, colors and characters. This Thursday, from 3-7 pm you can get fresh with a veggie, fruit, etc. at Derby Sq on Front St. — rain or shine.
A farmers' market allows growers the opportunity to market directly to consumers without having to deal with a food broker; they can also explain to customers how the food is grown and even advise on preparation. It's a win/win.
That is especially true this year as we have a bumper crop of farms that will be delivering diverse produce.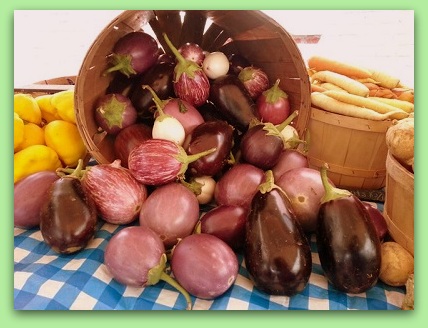 Clark Farm
Gibney Gardens
Grant Family Farm
Heavens Harvest Farm
Honey Pot Farm (new!)
Long Hill Orchard
Maitland Mountain Farm
Wally's Vegetables
But, as has been said before, this isn't your grandmother's Farmers' Market. It's produce and more.
Things You Can Eat (or drink)
A & J Lobsters
All Fruit, Inc. (new!)
Auntie Elsie's Oatmeal Crisps
Cookie Monstah
Far From The Tree
Fishwives Specialty Foods
Jodi Bee Bakes
Grassy Roots (new!)
Milk and Honey
Mill River Winery
Rowand Seafood
Stillman's at the Turkey Farm
Sweet Lydia's
Swissbakers
Valicenti Pasta Farm
When Pigs Fly
Other Things To Bring You Joy
Teas, Herbs & Spices : Just Herbals (new!); Salem Spice
Jewelry: Heritage Handmade
Bed, Bath, Home Products: Salem Soapworks
Plus music. Don't forget the music. Everything from folk to rock, Celtic tunes, sea shanties, and classical to name just a few. Keep checking this list as we constantly update the performance schedule.
The Salem Farmers' Market participates in SNAP and accepts the EBT card. SFM is still looking for volunteers to help with set up and break down of the market. Click here for more info.
Salem Farmers' Market is a Salem Main Streets project in partnership with the City of Salem, the Salem Chamber of Commerce, and Mass in Motion Salem.