"I definitely feel that the hand-crafted movement is expanding and redefining views on what being creative and artistic can be. These days it's not strictly putting a paint brush to canvas."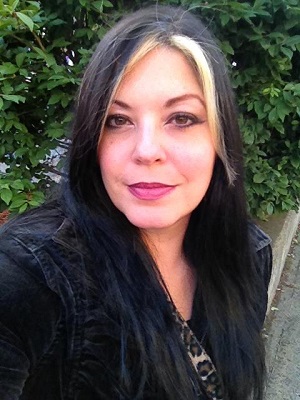 Liz Frazier, speaks from experience as the owner and candle maker of Witch City Wicks, currently located at 24 New Derby Street in Salem's Artists' Row.
Witch City Wicks is an independent and thriving small business based out of Salem, Massachusetts, "the Witch City", and thus comes the name. Each candle is hand-poured in small batches using domestically-grown soy wax, lead free all-cotton wicks, fine fragrance oils, and creatively inspired packaging.
"For anyone curious about the process behind creating our products, we'll also be creating/working on location" points out Frazier. "You'll get a unique opportunity to see how things get made. "
Interesting approach…. why go that extra mile?
Frazier says, "Since we're working and creating our products on site in Artists' Row, it seems logical that people be able to watch and chat with us during the process."
"And, every Thursday we offer kids activities from 4-6 pm in conjunction with the Farmers' Market. The activities vary week to week, but we try to put out some sidewalk chalk, hula hoops, games & bubbles, and people might find different creative activities."
Community interaction was certainly one of the appeals of taking part in the City's creative business program on Artists' Row.
She explains "The programming for Artists' Row this year was intriguing because it's showcasing creative businesses, people who hand-craft their products to sell. Hand-crafted items have become a huge element for the creative economy in recent years and it was exciting that Artists' Row was bringing makers to Salem this year. Being able to start out in this kind of venue is giving us great experience in what it would be like to run our own storefronts, if that's what we decide to do in the future."
Witch City Wicks was founded in 2010 by Frazier, a former professional graphic designer, who desired to elevate creative expression from a digital medium to something more tactile.
Mainly selling through her online shop, Etsy, and in person at various markets, the result has been a diverse range of classic and alternatively-themed collections of quality, long-lasting candles, that also enhance home decor.
But, in a city full of artists, what does she feel sets her and her store's contents apart from others?
"To my knowledge there aren't many other candle makers in Salem, so I think that is high on the list of what sets me, specifically, apart from other artists. The current lineup of artists at Artists' Row differ from traditional artists in that while we're still creative in nature, we produce affordable products for purchase. Not everyone can afford a $400-800 original painting, but a reasonably priced, hand-crafted item is a bit more tangible and someone gets to take home something that an artist created."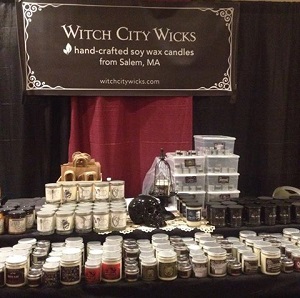 Speaking of home, what's the best way to enjoy your soy candle at home?
"When you light your candle for the first time, make sure the wick is about 1/4″ high. Soy candle wax has a memory of sorts, and will burn best and smell strongest if you establish a good melt pool straight off the bat."
"Upon first lighting, please leave it going for between 2-3 hours," she adds. "This will also help prevent the wax from 'tunneling.' But, soy candles should never remain lit for longer than 2-3 hours at a stretch, and always let them cool completely before relighting. Once the wax has burned down to about 1/2″, please discontinue use."
She advises, "You don't want to scorch the furniture or risk cracking the glass! Store your candles in a cool, dry place away from direct sunlight."
You can check out the Witch City Wicks instagram feed for product photos.
The season at Artists' Row runs from May through November.