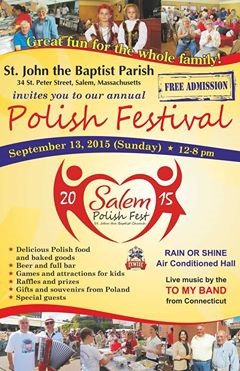 Think back to when you were younger and looked forward to various street festivals held by churches and neighborhood nationalities. The sights, sounds and smells were invigorating. This Sunday, 9/13/15 relive some of those memories at the 2015 Salem Polish Fest, taking place on the grounds of St. John the Baptist Church, 34 St. Peter Street.
Come alone, invite a friend, and most certainly bring the family; the Salem Polish Fest will be held from noon to 8pm, rain or shine. And the inside activities will be in an air-conditioned hall!
Remember the food? Pierogi, Potato Placki, Grilled Kielbasa, Golabki, Polish Ice, Funnel Cakes, Polish Fries. You might find some of these among the delicious Polish food and baked goods for sale, along with beer and a full bar.
But that's not all. It is most importantly a celebration of Polish culture & heritage. Expect to meet costumed dancers, hear ethnic music, and see gifts & souvenirs from Poland.
Speaking of culture and heritage, according to an article by Washington Mazurkerwitz and Veronica Ryewhiskey entitled "Recollections of the Polish Community in Salem" there was an "influx of Polish immigrants to Salem beginning in the 1890s. Many Polish immigrants sought work at the Naumkeag Mills and the many other textile and leather factories in Salem."
They go on to point out that "Polish immigrants played a vital role in the history of the Naumkeag Mills in particular, and in the life of the city as well."
So it is only fair that we celebrate their culture & heritage with them.
There will be games and attractions for children; raffles & prizes for adults.
There is no admission charge. Bring your appetite. Dobrej zabawy.